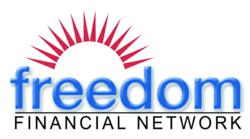 New grads need to take getting out of debt seriously, no matter how tough the job market may be.
San Mateo, CA (PRWEB) May 16, 2013
This year's college graduates are heading into a difficult job market with more credit card and educational debt than ever, said Kevin Gallegos, vice president of Phoenix operations for Freedom Financial Network (FFN) – but with some good strategies, still can start off on the right foot.
"New grads need to take getting out of debt seriously, no matter how tough the job market may be," Gallegos cautioned. "Graduates need to take charge of their financial future. And parents who are looking for ways to help their young adults find a strong beginning in life can start with financial education."
Job prospects for 2013 graduates are less than promising, according to recent employment surveys. Of graduates who finished school within the last two years, only half had a job within one year of graduation. That trend does not look likely to change this year. Despite an improving economy, companies plan to hire only 2 percent more college grads than last year.
With that tight employment market in mind, Gallegos suggested these five tips to help new graduates climb out, and stay out, of debt.
1. Make a living -- somehow. Graduates might not have immediate luck landing a job in their chosen field. But real life is not a summer vacation. Especially for those with educational debt, the clock is ticking toward loan repayment dates. If necessary, seek out a job – any job – whether it is waiting tables, working as a nanny or taking an entry-level position in an unrelated field. With today's technology, graduates can continue to apply for jobs in their field in their off hours.
2. Create a budget. A budget is a spending plan, based on income, lifestyle and goals. Graduates should begin by tallying all set monthly expenses -- student loans, car payments, credit cards -- and variable expenses, such as groceries, gas money and clothing. The total will help set a target for monthly income and savings.
3. Lock up plastic. More than 90 percent of college graduates have at least one credit card, and the average number of credit cards is much higher, at 4.6 cards per grad. Graduates owe $4,100 in credit card debt, on average. "One of the top priorities should be paying off this debt," Gallegos said. "Carrying credit card debt is no way to begin adult life. It's especially important for their financial well-being and their ability to qualify for needed credit, such as auto loans or mortgages, that they repay debt and maintain a healthy credit score."
4. Prioritize student loans. Today's college graduates complete school with an average of more than $27,000 in educational debt. Student loan debt can be a good investment, because higher education still, on average, ensures graduates better lifetime earnings. But making payments can be a challenge, and student loan debt usually cannot be discharged through debt settlement or bankruptcy in case of a financial crisis. In the last few years, the delinquency rate on student loans was more than 15 percent. "For these reasons, once graduates have a job, we urge them to prioritize repaying student loans as fast as possible," Gallegos advised. "Paying off this debt faster than the scheduled 10- to 15-year term will buy new graduates a great deal of freedom."
5. Stay covered. Under the Affordable Care Act, most health insurance policies now must cover policyholders' young adult children until age 26. This provision can make it more affordable for young adults who do not have insurance offered through their employer to maintain health insurance. "In almost every case, it makes more financial sense to have health insurance coverage than to try to pay for a health crisis – and go into more debt," Gallegos said.
"With career goals and paths in place, good budgeting habits and some consistent work, new graduates can learn to get out, and stay out, of debt," Gallegos said. "Most grads will find that getting a financial footing is challenging, but that they can begin life on their own – and leave the empty nest to Mom and Dad."
Freedom Financial Network (http://www.freedomfinancialnetwork.com)
Freedom Financial Network, LLC (FFN), provides comprehensive consumer credit advocacy services. Through its Freedom Debt Relief, Freedom Tax Relief and ConsolidationPlus products, FFN works as an independent advocate to provide comprehensive financial solutions, including debt settlement, debt resolution and tax resolution services for consumers struggling with debt. The company, which has resolved more than $2 billion in debt for more than 150,000 clients since 2002, is an accredited member of the American Fair Credit Council, and a platinum member of the International Association of Professional Debt Arbitrators. The company holds the Goldline Research Preferred Provider certification for excellence among debt relief companies.
Based in San Mateo, Calif., FFN also operates an office in Tempe, Ariz. The company, with more than 550 employees, was voted one of the best places to work in the San Francisco Bay area in 2008, 2009, 2012 and 2013, and in the Phoenix area in 2008, 2009, 2010 and 2012. FFN's founders received the Northern California Ernst & Young Entrepreneur of the Year Award in 2008.
(end)