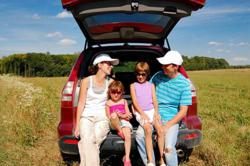 Most importantly, those traveling should consider the environmental impact they could be making along the way, either good or bad.
Plantation, FL (PRWEB) May 16, 2013
Essential Safe Products, a company dedicated to teaching about eco friendly, healthier choices for families, is providing some tips for "greening" your Memorial Day road trip, including stashing reusable's in your vehicle, using the open road and watching your speed. With so many options for summer travel, ESP wants to help you plan ahead for a stress-free and enjoyable journey using the following guidelines:
1) Come Prepared
"Most importantly, those traveling should consider the environmental impact they could be making along the way, either good or bad. If they decide to make a great impact, they could bring their own reusable items for eating responsibly," said Hannah Helsabeck, President of Essential Safe Products. "A bad impact means they are leaving a trail of non-recycled waste along the way."
Instead of stopping at fast food restaurants or bringing a lot of disposable items, consider bringing the essentials to eat healthy and eco friendly, from your vehicle. Bring plenty of water, snacks, sandwiches and other food items in reusable, preferably stainless steel, glass and organic cotton holders. The bottles can be refilled, and food holders cleaned at your destinations and refilled. In addition, bring eco friendly utensils, dishes, napkins and cups.
2) Think Like a Local
If you do decide to stop for food or even souvenirs, sticking with local places instead of major chains helps the local economy, and reduces the carbon footprint of the area. In addition, locally grown produce is known to be fresher and healthier than other options.
3) Take the Open Road
Another thing to keep your road trip green and save money is to take open roads. Lots of people don't realize that stop-and-go traffic is just as wasteful as it is irritating. Idling vehicles release harmful gases into the air, contributing to global warming. And contrary to some popular belief, idling for more than 10 seconds uses more fuel than restarting your engine.
4) Watch Your Speed
In terms of fuel economy, the simple tip of slowing down and obeying the speed limit could be saving you money. Anything over 60 mpg reduces your mileage, while sudden starts and stops from aggressive driving wastes gas.
5) Car Camping
Since its getting warmer outside, consider staying in your vehicle instead of finding a hotel or motel. Find a camping site that caters to motor homes, which will most likely have amenities such as bathrooms with showers and wi-fi. Camping uses much fewer resources than a hotel room with air conditioning, television, etc.
6) Skip the Car Completely
Especially if you are planning on driving a long distance, determine if taking public transport is an option. You'll conserve tons of gas and take the pressure out of your hands by hopping on a bus. Or, switch it up and plan a bike trip instead.
No matter which eco friendly practices you decide work best for your family, you'll be making a positive difference on the environment by following any of the above.
About Essential Safe Products (ESP)
Essential Safe Products is dedicated to helping people live eco friendly, healthy and non-toxic lifestyles. Started by a mother of 6 in her quest to find safe alternatives to toxin-laden products, the company shares invaluable knowledge and resources on their website, http://www.LiveESP.com. On a mission to positively influence people's lives, ESP is a one-stop source for trusted information and safer, more environmentally friendly products.