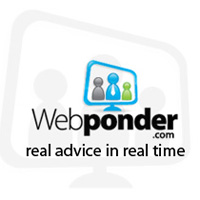 The legal category is the most popular category on Webponder.com.
Miami, Florida (PRWEB) May 17, 2013
Law firm marketing video consultation website is now available for attorneys launching a new law firm, or looking to expand their practice, through online legal advice website Webponder.com, which offers a new and unique technology for online legal marketing. Webponder.com offers visitors to the site the ability to connect with professionals in a variety of fields through live video consultations, with no download or installation necessary.
For attorneys, Webponder is a cutting edge new website that allows prospective clients to connect with them. The attorneys have the choice as to whether to offer free consultations, and they also have a video consultation rate that is posted on their profile. Attorneys can also use Webponder as a way to communicate with current clients, as although the client may want to see their attorney face-to-face, it is not always convenient or practical to take a few hours out of one's day to make the trip to the law office.
The legal category currently is the most popular category on Webponder.com. Visitors to the site can browse the attorney profiles and choose the one that they think is best for them and their situation and would like to connect with, many even offer free lawyer advice initially. There are a variety of different specialties that are represented on Webponder.com, including personal injury, criminal, real estate, Immigration, business, bankruptcy, and many more. Inquiries such as what do I do if I'm in a car accident, or how can I get a simple divorce, or can I get citizenship through marriage can now be addressed live and face to face with an attorney.
Once the person seeking advice has chosen the attorney they would like to connect with, they send a video consultation request with the topic, details, and date and time they are requesting. Once the attorney reviews and approves the request, the parties meet and speak online through a live video chat. All that is needed to successfully join the video consultation is an internet connection and webcam.
Webponder.com was designed and developed by web design Miami firm NetroStar, Inc. Attorneys interested in registering can visit Webponder.com and register as an expert, or contact managing director Steve Thompson at (305) 373-7775.