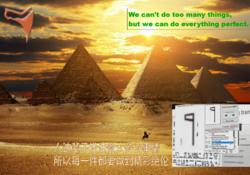 An image is worth it's age in words. Allow us to take you in our journey through ancient secrets...
Lewes, DE (PRWEB) May 17, 2013
The dream of becoming a pyramids' researcher is a reality with GlyphViewer Translation.
Once requiring centuries to collect, users can now use the invaluable knowledge to unlock the mysteries of hieroglyphs in seconds.
Translate the text contained on pictures with great ease and high accuracy. Translating the text contained on pictures has never been easier. Translate, Upload, Publish, Share and Enjoy it like never before.
Glyph Soft's development team is proud to present a revolutionary GlyphViewer Translation Tool for languages and letters based on symbols such as Ancient Egyptian Hieroglyphs. In addition, this great application can be used for the modern languages which use symbols in their alphabets, such as Chinese for example. GlyphViewer enables its users to unlock the meaning of the ancient and modern languages that use pictograms with ease and comfort.
How does it work?
This application is available for download from the following link:
http://www.2glyph.com
New users will receive free credits to test all the features this application has to offer.
On this page:
http://www.2glyph.com/library
Users can get the true feeling of this application's usefulness by uploading and sharing their work with other people.
What is great about it?
When it comes to this intriguing application the development team has to point out the two fantastic things.
The first one is related to the amazing opportunity not only to translate the Ancient Egyptian Hieroglyphs, but also to use over 1,000 symbols for creating your own words. It almost looks unreal to translate words from and into Egyptian Hieroglyphs with ease. The translated work can be exported to both image and HTML format.
The second option which deserves the full attention is the possibility to translate and publish directly the text which is the integral part of a certain picture. Remember how troubling and time consuming it is to manually type the words from a picture that need to be translated? Forget about this trouble, with GlyphViewer, users will never have to bother with it again. The Public Library section of http://www.2glyph.com contains some of the very interesting and indicative examples.
Users should also be aware of the amazing opportunities this application offers for the expenditure of ones business. Users of the application will be able to deliver their message from the certain text within an image on their site to the different countries and various cultures.
With GlyphViewer nothing is left unread.
The final touch of this fabulous application is presented with a choice to export the results as images or HTML formats.
The text on the picture will never be a Hieroglyph with GlyphViewer.
Who can use it?
GlyphViewer is equally opened for both amateur enthusiasts and hard-working professional translators. This fantastic tool can provide users with fantastic opportunities to enjoy in their passions in one completely new way, or to earn more in easier and reliable translation work. Let us not forget to emphasize the fact that it's users do not have to be an IT professional to create the complex html data. This application will do this job by enabling people to upload the translated files on their own site or on the http://www.2glyph.com/library page.