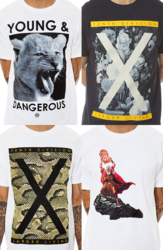 As one of the original New York streetwear brands, 10 Deep is still kicking it on the street and in the boutiques
Boston, MA (PRWEB) May 16, 2013
Karmaloop, the leading web retailer for streetwear and urban fashion, announced today the availability of the Spring 2013 collection from 10 Deep, one of New York's original streetwear brands.
"10 Deep has been at the center of hip hop, skate, punk and graffiti subcultures for more than 15 years, and the Spring 2013 is some of their freshest stuff to date," said Greg Selkoe, founder and president of Karmaloop.com. "As one of the original New York streetwear brands, 10 Deep is still kicking it on the street and in the boutiques. Karmaloop is excited to offer the very latest from the 10 Deep collection."
Fans of 10 Deep can visit Karmaloop.com to pre-order pieces from the 10 Deep Spring 2013 Collection, including the Let There Be Swag Tee in White, a 100% cotton tee with a graphic of a swagged out Moses on the front and a 10 Deep logo on the back. There's also the Mighty X Tee in White with an oversized X logo graphic on a snakeskin background, or the Mighty X Tee in Navy with an oversized X and floral background. And check out the Young and Dangerous Tee in White with a little lion graphic -- a perfect mix of swagger and charm.
"10 Deep was founded by a native New Yorker, Scott Sasso, and the brand is still as strong as the New York music scene it came up with," said Selkoe. "10 Deep is all about personal expression and self-reliance – the strength in the hands and 10 fingers of the individual, rather than seeking the approval of one's peers. Karmaloop is proud to carry on the 10 Deep tradition and vibe."
About Karmaloop.com
Karmaloop.com is the leading online retailer for global urban fashion and streetwear, with more than $130 million in annual sales. Retailing every major streetwear brand -- from streetwear brands like Crooks and Castles, WeSC and Obey to skate labels like Diamond Supply Co. and KR3W -- Karmaloop receives more than 4.5 million unique visitors from 40 countries each month, and retails more than 500 brands designed for the "Verge Culture" -- a multicultural demographic that is 18 to 34 years-old and often referred to as the first generation that grew up with the Internet. Founded in 2000, the Karmaloop family of websites today includes the internet television station KarmaloopTV, the women's fashion site MissKL, the menswear boutique Boylston Trading Company, the flash-sale site PLNDR, the online skateboard retailer Brick Harbor, and the independent marketplace Kazbah.