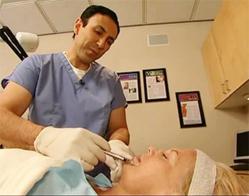 Los Angeles, CA (PRWEB) May 16, 2013
According to an April 30, 2013 CNBC article, titled "FDA Staff Says Allergan's New Dermal Filler Effective" (Go to goo.gl/kQJKk), the US Food and Drug Administration (FDA) recently declared that Juvéderm Voluma XC, a dermal filler product manufactured by Allergan Inc., is effective in correcting volume deficits in the middle of the face. The FDA reported that after six months of Juvéderm Voluma XC treatments, there is a significant improvement in the appearance of facial wrinkles and folds in the center of the face.
"I look forward to being able to offer Juvéderm Voluma XC to my patient," says Dr. Simon Ourian, Medical Director of Epione Beverly Hills. "Everything I've heard and read until now indicates that it works well to restore lost facial volume."
The article noted that the FDA reviewers who conducted the preliminary review of Juvéderm Voluma XC indicated that if the FDA advisory panel approved the dermal filler, Allergan should be compelled to perform further safety tests. Before the approval was announced, some analysts had predicted that based on Allergan Inc.'s track record and the quality of the other products manufactured by the company, there was a high likelihood of the FDA clearing Juvéderm Voluma XC.
Although two of the FDA reviewers initially dissented from the opinion, on May 2, 2013 the independent advisory panel of the Federal Drug Administration voted on the safety, effectiveness and risk benefit profile of this dermal filler, and unanimously declared that is an effective injectable that has the ability to correct age related problems such as folds and wrinkles in the mid-face.
"It is important to note that prior to the FDA's declaration that Juvéderm Voluma XC is effective, it had previously approved an earlier version of Juvéderm in 2006," says Dr. Ourian, "and I've been using it in my practice since that time. I found it to be an effective product and I expect Juvéderm Voluma to be a benefit to my patients too."
Dr. Ourian has been a pioneer in laser technology and non-invasive aesthetic procedures including Restylane, Juvéderm, Radiesse and Sculptra. These treatments are used for the correction or reversal of a variety of conditions such as acne, acne scars, skin discoloration, wrinkles, stretch marks, varicose veins, cellulite, and others. More information about the pending approval of Juvéderm Voluma XC can be found on Epione's website.