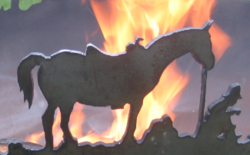 Houston, TX (PRWEB) May 21, 2013
The Alamo, Longhorn Cattle, The Lone Star, Cowboys are just some of the iconic images that adorn the rim of the great Texas Firebowl.
Made exclusively for http://www.fabfirepits.com by Sharon Anthuis, this fire bowl is made of 1/4" mild carbon steel that will last indefinitely, as long as the Alamo has stood.
Design as a wood burning fire, the fire pit can be converted into a gas burning fire pit for either Propane or Natural Gas. This is important where local regulations have open burning bans.
So if you live in the great State of Texas, or are currently exiled from it, this firebowl will make a great place for a gathering of family, friends or neighbors or that romantic evening for two.
http://www.fabfirepits.com is a division of Donna and Keith Enterprises llc specializing in supplying custom fire pits made in USA.