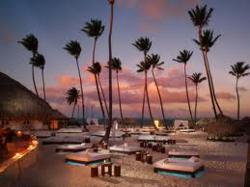 Destination weddings tend to be more affordable and memorable, so its makes sense that there is an increase in destination weddings with this demographic.
(PRWEB) May 16, 2013
Destination weddings of same-sex couples is on the rise, according to ASK ME, a hotel sales and marketing company. In the last three years, the company has seen a 75% increase in Caribbean destination weddings for same sex couples. ASK ME has also seen a keen interest among hotels to welcome these couples. From taking the plunge with an underwater wedding to saying "I Do" at a beach-front all-inclusive resort, these hotels make tying the knot easy, fun, and affordable – regardless of ones sexual orientation. Destination wedding packages start at $1,299.
"Same sex couples now can process the legal marriage documents in almost a dozen states," said Marilyn Cairo of AskMeInc.com, which manages destination wedding services for resorts, "This allows couples to do the legal work in the USA and then have their ceremony wherever they wish. Destination weddings tend to be more affordable and memorable, so its makes sense that there is an increase in destination weddings with this demographic."
Cairo reports that all four of the Paradisus Resorts in the Caribbean are TAG-approved hotels, meaning that it is certified as gay-friendly. Paradisus Resorts offer symbolic, non-legal weddings such as the popular Aqua Wedding package which includes the wedding ceremony, a one (1) hour cocktail reception, a three (3) hour private sit-down dinner reception for up to 24 guests and special amenities for the couple, plus the full support of the Romance Team, to help couples design, plan and execute all the wedding details to perfection. The Aqua Wedding package is $4,000 in January, February, September, October and December 1-22, 2013 only. For more information call AskMeInc at 305-669-2941.
For more of a wedding day splash Hotel Caravelle offers an underwater wedding package. Located on St. Croix, US Virgin Islands, where no passport is required for US residents, Hotel Caravelle's Wet Wedding is a full service package, which includes dive gear, minister, a three-night stay and more is just $1299 now though December 14, 2013. The marriage license ($100) is additional. For more information call Hotel Caravelle at (800) 524-0410 or visit http://www.HotelCaravelle.com.
Marenas Beach Resort, in Sunny Isles Beach, Florida, a TAG Approved Hotel, offers an elopement package to make any couple swoon. This I Do for Two getaway includes a three night stay in a one-bedroom suite; private limousine service to and from airport; welcome champagne and chocolate covered strawberries amenity accompanied by monogrammed "His and His" or "Hers and Hers" champagne flutes; monogrammed bathrobes await the couple in their suite, customized with their initials; Onsite Wedding Coordinator to handle all of their wedding needs; Day of Hair and Make-up for the blushing brides or grooms; ceremony on terrace with sweeping views of beach and crystal blue ocean; Non denominational officiant; two hand-wrapped bouquets or boutonnieres; Solo guitarist or violinist during ceremony; 1 hour professional photographer including CD of all photos with a right to print; In suite champagne breakfast for two with Private Chef; and In Suite 50 minute couple's massage. The elopement getaway starts at $2400. For more information, call 877.858.2305 or visit http://www.marenasresort.com.
The Montauk Yacht Club Resort & Marina (32 Star Island Road, Montauk, NY 11954 [631] 668-3100 or http://www.montaukyachtclub.com) has always had a strict "come as you are" policy. Now that more state governments have legalized same sex marriage, the legendary Hamptons resort is flying their gay-friendly flag even higher. Montauk Yacht Club has long been a favorite spot for grand weddings (and civil unions) with its dramatic seascape and vintage cool vibe. The "At Last" getaway is a same-sex elopement escape with a honeymoon built in. "This special retreat reminds couples what it's all about, each other," states Lloyd Van Horn, general manager. The Montauk escape includes three nights in a waterfront suite, boutonnières for grooms (bouquets for brides), rose petals turndown on wedding night and a small fresh flower arrangement for the room; two hours of photography with prints and CD of images; Judge or Notary Public to officiate the ceremony; dinner for two with a champagne toast at Gulf Coast Kitchen and breakfast in bed the following day. This escape is priced at $2800 Monday - Thursday and $3500 for Friday – Sunday. For more information, please call 888-MYC-8668 or visit http://www.montaukyachtclub.com.
###