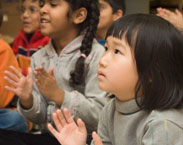 The benefits of brain training research shouldn't belong to the exclusive few.
Toronto ON (PRWEB) May 17, 2013
Just in time for summer camp, the Thinking Skills Club has introduced a two month option to the pricing model for its online educational service.
Thinking Skills Club founder Mitch Moldofsky made the change in response to requests from a library and an outdoors summer camp at the Peel District Shcool Board Parent Literacy Conference in March. The two month club membership, which gives a club leader the ability to track the progress of ten to twenty children on their site, is in addition to the preexisting six month format. "The six month club membership was designed for schools and after school clubs at community centers," says Moldofsky, "but libraries often run programs that only last eight weeks." One of the perks of being the owner of a website, says Moldofsky, is you don't have to go through red tape to make changes in response to customer needs. "I made the change right then and there, on my laptop," he says.
Although many research studies show brain training games to improve performance in school, it is still an area of much controversy. There is no governance over the increasing number of websites offering such games, and only some have gone through rigorous testing. Through his research, however, Moldofsky has become convinced that such games do affect cognition and behavior all the time whether we realize it or not. "Even a simple game, such as Lemmings, where you help these mindless characters overcome obstacles to get from point A to point B, has been shown to increase a player's likelihood of helping someone in a difficult situation in a ridiculously short amount of time," he says. Though he admits the effect may be short-lived, he believes it is certainly cumulative.
At the high end of the brain training category, companies require schools to have their proprietary games played every day for weeks in order to show results, on top of meeting all their curriculum goals, a challenge for any teacher. Moldofsky says the Thinking Skills Club was developed to increase access to similar types games in an easier to implement format. Teachers can use the website as part of their classroom program or as an after school activity, similar to a chess club.
"The benefits of brain training research shouldn't belong to the exclusive few," says Moldofsky, "These things are on the internet, they should be used by everyone."