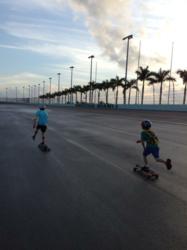 Get Stoked!
Port St. Lucie, FL (PRWEB) May 20, 2013
The International Distance Skateboard Association has elected Port St. Lucie to be an official race location for the best long distance skaters to attend and compete. This opportunity will give the city of Port City Lucie a venue of raising money for our local Boys & Girls Club, plus a way of showcasing our city. The IDSA is the authority on long distance races throughout the world and with their sanctioning help, they will insure our event is safe and organized for all who want to attend and compete. There will be a 5k, half marathon and full marathon section for all those that want to compete.
We are encouraging Port St. Lucie to come out and witness an event that will surely entertain and welcome all those that want to participate. There will be a big purse, plus big prizes for participants. Not only will we have a race, but we will have vendors, artists, media coverage and entertainment. Event Planner Ronald Lewis states, "This is a great opportunity for Port St. Lucie to 'Get Stoked.'"
If you would like to be a part of this big event for a big cause, please contact us. We are still seeking sponsors, vendors, volunteers, etc.
Registration is now available at http://theidsa.org/event-registration/?regevent_action=register&event_id=15
Ronald L Lewis: (772) 418-0634 or info(at)DonkBoard(dot)com
DonkBoard.com
1391 NW St. Lucie West Blvd - 135
Port St. Lucie, FL 34986
772-418-0634