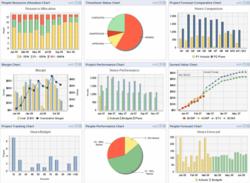 Dulles, Virginia (PRWEB) May 16, 2013
Unanet, a developer of services automation software that helps project-based organizations manage people and projects for improved efficiency and effectiveness, recently hosted its 2013 Customer Meeting in San Diego, California.
This year's meeting was centered on three program tracks: Unanet for Finance and Administration, Unanet for Project and Resource Management, and Success Strategies and Unanet Adoption. Additionally, customers earned CPE credits for training sessions, heard customer testimonials and keynotes, and networked with industry peers.
"As a provider of services automation software for project-based organizations, understanding our customers, and our customers maximizing their understanding the scope of the Unanet solution is critical for our business," said Donna Kilbourn, Senior Vice President of Customer Account Management and Partners for Unanet. "Our annual conference provides a great opportunity to connect with our customers and share best practices to help them manage people and projects for improved profitability."
Attendees were very positive about the benefits of attending, and their use of Unanet:
"The best two-day conference I've attended."
"Unanet has been flawless in helping us obtain efficiency."
"We saw at least a 300% increase in productivity."
Sponsors for the 2013 Unanet Customer Meetings included BDO, Digicon, and Loudoun Virginia Economic Development who were sponsoring for the second year in a row. Solvability sponsored for the first time.
Planning for the 2014 Unanet Customer Meeting is already under way and will be located on the East Coast in April.
About Unanet:
Unanet provides superior Services Automation software which maximizes staff utilization, reduces administrative costs by 90%, improves invoicing by 10X, and supports forward decision-making for improved profitability. Unanet's more than 950 customers include government contractors, consulting/services organizations, internal IT (Information Technology), and high-technology product companies. Unanet's suite includes resource management, opportunity/project management, timesheets, expense reports and collaboration with real time information and analytics, project accounting, billing and revenue recognition. With easy to use interfaces, and outstanding support, Unanet is available either as an Enterprise license (self-hosted software), or an On Demand License (Cloud).