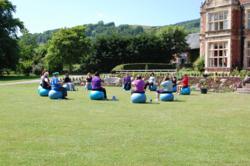 New Weight Loss Results At FitFarms Fitness Camp
(PRWEB UK) 16 May 2013
FitFarms has recently changed the style of the exercise and nutrition programme which has proven to be a real success at the FitFarms weight loss boot camp.
The company has always been considered by the general public and the other companies as the leading weight loss retreat in the UK.
This is not because it was the first company to bring the weight loss camp programme to the UK but because the weight loss and fitness retreat constantly improves itself.
The fitness and weight loss programme has recently changed the exercise schedule. FitFarms use to concentrate on burning calories over a long period of time but now the weight loss retreat team have started to build more lean muscle which creates a greater weight loss and body fat drop in the week.
These new results have caused a rush of bookings making it difficult to get a space on some of the Summer weight loss retreats. The company strongly advises to book early to avoid disappointment on the summer weeks.
Last year a new nutritional therapist was introduced to the weight loss camp which has also helped improve the nutrition side of the course.
The meals are more tasty and there are menus for all four seasons. The nutrition programme is based around balancing blood sugar levels and portion control whilst providing a tasty well balanced diet.
The weight loss retreat nutritionist also provides the FitFarms guests with all the recipes from the week and there are also cookery workshops to give good visual instruction post the FitFarms retreat.
Stephen Cole, the FitFarms Managing Director, explains that these new higher weight loss results have been learnt over the years and also backed up by some of the best health professionals in the country. The onsite fitness retreat team are not just well qualified and experienced; they really care for the long term health of the guests.
The May retreats are all fully occupied and the next available date starts on Friday 7th June at the Derbyshire fitness camp.