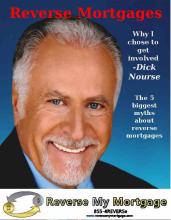 Making our clients and their families aware of the pros and cons of an HECM loan is our main priority.
Salt Lake City, Utah (PRWEB) May 18, 2013
Children of parents who are considering a Home Equity Conversion Mortgage (HECM) are often concerned about the financial consequences of a reverse mortgage. Reverse My Mortgage (RMM) has created a new program providing consultations that involve family members who are concerned about home ownership for their loved ones. A Utah reverse mortgage is on option that presents a variety of details to take into consideration. This new program is a face to face consultation explaining the pros and cons of HECM loans along with how to leverage the market for better results. Family members will also learn how properly utilizing Medicare and social security in conjunction with an HECM loan will ultimately maximize the benefits for the homeowners.
Financial decisions are often accompanied by worry and hesitation. Children are often involved with their parent's home ownership and often assist in their decision making. By introducing a family consultation program for the potential HECM loan applicants as well as their children, RMM is ensuring that the decision is one that benefits the entire family. The consultation goes through the entire process, including the reverse mortgage calculator, the application process, and the end result. RMM covers all the pros and cons, making families aware of how their home equity would be impacted and which routes would give them the best benefits.
"We are very excited for this program since addressing home ownership concerns with family members is among the most important things we do as Utah Reverse Mortgage brokers. Every child's greatest fear is that someone takes advantage of them and they lose the most precious asset they have worked for their entire life; their home," said Mark Schow, owner of RMM.
Children are often the greatest influence in a person's decision-making process. Keeping them informed of financial positives as well as the potential dangers of a home equity conversion mortgage allows them to share their input. The complications associated with a HECM loan are tedious and often difficult to understand, especially with their integration of other factors such as social security and Medicare. The implementation of a family consultation encourages better broker relations along with providing everyone involved with a knowledgeable background on the potential benefits and downfalls that are possible with an HECM loan. With their reverse mortgage calculator, a free mortgage reversal guide, and their new family consultation program, RMM is providing the resources to educate and inform their clients. To request more information, visit their website at http://www.mortgagereversecalculator.com.