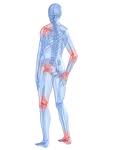 OmniFlex and Tendonex offer an innovative "internal" and "external" approach to joint health.
Wyckoff, NJ (PRWEB) May 16, 2013
Arthritis is common, costly, and painful, and most people think there is nothing you can do about it. Misconceptions about the disease contribute to millions living with arthritis pain, due to a persistent attitude of complacency toward the disease and its impact. Arthritis is more than aches and pains, and is a more frequent cause of activity limitation than heart disease, cancer or diabetes.
Osteoarthritis or "wear and tear" deterioration of joint cartilage is a leading cause of disability, and as a consequence, a leading cause of pre-mature and unhealthy aging. It is widely believed that nothing can be done to manage the pain and stiffness from osteoarthritis and the associated decline in robust activity, short of surgical joint replacement. Notwithstanding the drawbacks of surgical intervention, knee replacements have sky-rocketed in recent years.
Concurrent with this increase in knee replacements, has been a growing demand for medical management options, with exploration of newer and more effective joint health supplements. When introduced four years ago, OmniFlex Joint Health Supplement pioneered a new direction in the formulation of multi-nutrient joint supplements. OmniFlex contains fish oil, krill oil, rosehips, BioCell Collagen II, and pine bark extract, all of which have been proven effective in promoting joint health.
Unlike surgical intervention and the use of pain killers and NSAIDS, there are no negative effects from using a combination of natural joint supplements. These substances are not only beneficial to joint health, but have multiple properties that promote overall well-being.
In support of National Arthritis Month, a free bottle of OmniFlex can be obtained at http://www.getomniflex.com. As an added bonus, the free trial will also include a bottle of the just-released Tendonex Topical Pain Relief product. OmniFlex and Tendonex offer an innovative "internal" and "external" approach to joint health.
Ethical Alternative Products is a dietary supplement supplier that is focused on the research and manufacturing of a select group of scientifically sound, broad-use supplement products. The company mission is to develop and produce high-value supplements, employing innovative formulations and highest quality raw materials. Products produced by Ethical Alternative Products include ThioGel, ThioGel-L triple antioxidant liver formulation, OmniFlex multi-nutrient joint health product and Tendonex topical pain reliever.