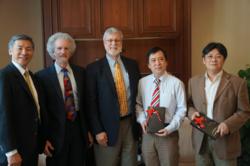 Colorado Springs, CO (PRWEB) May 17, 2013
Bestselling author and speaker Philip Yancey recently joined Biblica executives Scott Bolinder and Richard Loh for a series of strategic meetings in Beijing and Shanghai to explore ways of meeting the growing hunger for God's Word in the world's most populous country.
In Shanghai, Yancey unveiled the Chinese Student Bible, the latest adaptation of the Gold-Medallion Award-winning NIV Student Bible, one of the bestselling Bibles in modern history. The Student Bible was originally created to help students of all ages overcome common barriers to reading and understanding Scripture. The Chinese Student Bible features the complete text of the Chinese Contemporary Bible (CCB) translation.
Yancey and Biblica presented the first copies of the Chinese Student Bible to leaders and representatives of the China Christian Council (CCC) and the Three Self Patriotic Movement (TSPM) for their review. Together, the CCC and TSPM serve the church in China.
"Working on the Student Bible was one of the most gratifying projects of my writing career," said Yancey. "My prayer is that it will find its way to China so that millions more 'students' of the Bible can benefit from it."
Biblica hopes the Chinese Student Bible will become yet another resource to help Christians in China engage the Bible. Recently the CCC/TSPM published a parallel New Testament featuring the Chinese Union Version (CUV) and Biblica's Chinese Contemporary Bible (CCB). Biblica is also partnering with Beijing International Christian Fellowship (BICF), a large church serving the expatriate community in China, to develop a new Chinese Bible app. BICF recently piloted the country's first Community Bible Experience, reading the entire New Testament using Biblica's NIV/CCB parallel New Testament.
"It has been a blessing for Biblica and the CCC/TSPM to collaborate as partners in bringing God's Word to the people of China," said Richard Loh, Northeast Asia Regional Director for Biblica. "The parallel CUV/CCB New Testament is one of the latest publications of the CCC/TSPM. The CCB is very helpful for the younger generation of readers seeking a modern and contemporary version of the Bible."
"We are delighted that Biblica's Chinese Contemporary Bible is serving the church and helping the global Chinese community clearly understand God's Word," said Scott Bolinder, Executive Vice President for Biblica. "We're grateful for our relationship with the leaders of the CCC/TSPM as they lead and influence the church in China and help people read the Bible well."