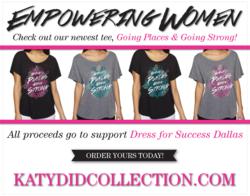 As a female entrepreneur who believes deeply in the DFS mission, it is my honor to be an ongoing sponsor and to host this special night of fashion.
Dallas, TX (PRWEB) May 16, 2013
Leading clothing apparel line, Katydid Collection, is proud to announce its sponsorship of the second annual "Light the Runway" father-daughter fashion show, benefitting Dress for Success Dallas.
The event – produced by Harriet Kellie Gibbe – will take place Friday, May 19 from 7 p.m. to midnight at 129 Leslie in the Dallas Design District.
Katydid T-shirts owner Katy Messersmith Mattox encourages local fashion lovers to come and enjoy a night of great wine, fashion and light bites. Event tickets are between $35 and $125 and can be purchased at http://dfsdallas.org/light-the-runway-sponsor-levels/. In addition to serving as the event's host, Messersmith Mattox will be the show's featured designer, and part of her spring collection will be featured on the event's runway.
Every woman can now wear Katydid designs and graphic tees while also supporting Dress for Success Dallas. Katydid Collection has created a "Going Places, Going Strong" women's tee, echoing the organization's mission and motto. One hundred percent of proceeds from the tee will benefit the Dallas chapter of Dress for Success. The cotton tee is short-sleeved and loose fit with a scoop neck. The tees can be purchased at katydidcollection.com as well as at the Dress for Success Dallas offices at 13331 Preston Road, Suite 2122.
"There are few organizations that so closely mirror my desire to empower women. Like me, Dress for Success wants women to feel confident in their attire, and by extension – in their own skin," said Messersmith. "As a female entrepreneur who believes deeply in the DFS mission, it is my honor to be an ongoing sponsor and to host this special night of fashion."
The funds raised at the May 17th fashion show will support the Dress for Success mission of promoting economic independence of disadvantaged women by providing professional attire, a network of support and career development tools to help women thrive in work and in life. Last year, Dress for Success Dallas provided suits to more than 500 women, and the organization expects to double that number in 2013.
For sponsorship or other information about the event, please contact 972.392.9770 or dallas(at)dressforsuccess(dot)org.
About Katydid Collection
Katy Messersmith first arrived on the fashion scene in 2002 quite by accident. While volunteering at a women's prenatal clinic in Africa, her life took a turn - literally, her luggage was lost and she was soon collaborating with local seamstresses. Those first designs reflected the vibrant, local culture but lit a creative and entrepreneurial spark in Katy foreshadowing the bold Katydid creations to come. Today, the company is a multi-million dollar business based in the heart of the Dallas design district; Named in the 2010 Inc. 500 list of the fastest-growing private companies in America, Top Internet Retailer 2010 and Katy was named in the top 100 women in business by Dallas Business Journal, 2012.
A firm believer in the power of giving back, Katy constantly looks for ways to make a difference in the community and empower emerging women. Katy is currently serving on the board of Fashion Group International, and sponsors several events throughout the year for Dress for Success. A three year pledge sponsor of Susan G. Komen Dallas Affiliate, Katy was named hometown hero by Fox 4 TV for her contributions.
The Katydid Collection lifestyle brand includes women's apparel and accessories. The youthful yet edgy styles, vibrant colors, and signature popular motifs mixed with unexpected patterns have become wardrobe staples for women of all ages. While clients are drawn to her products by the modern designs and creative embellishments, repeat customers return for the exceptional quality of the garments. Katy insists on the highest standards for her label, and the entire apparel line is made in the USA. The label is sold in more than 10,000 boutiques across the nation. For more information, visit http://www.katydidcollection.com or http://www.facebook.com/katydidcollection.