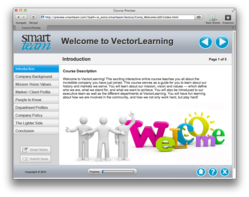 Our expert development team will create a custom online course that covers a client's onboarding needs in a standardized, repeatable way that is readily available when new team members are hired. – Matt Casey, PhD, VP of Content for RedVector
Tampa, FL (PRWEB) May 16, 2013
RedVector.com, the leader in online continuing education and workforce training solutions for the architecture, engineering, and construction (AEC) industry, recently expanded its premier product and service line to include the option for clients to develop a custom online welcome course for new employees. The service is offered through RedVector's sister company, SmartTeam, which delivers online professional development training for small to medium businesses.
The custom welcome course feature was created to help clients streamline onboarding and disseminate important company information during the new employee orientation period. To create their "Welcome to the Company" course, clients will fill out a brief course information form provided by their RedVector Account Managers. The course is then created by the RedVector Development Team and made available in the client's online course catalog. The following sections are included in the custom welcome course:

Introduction
Company Background
Mission/Vision/Values
Market and Client Profile
People to Know
Department Profiles
Company Policies
The Lighter Side (fun/interesting tidbits)
Conclusion
"With this special course offering, our expert development team will create a custom online course that covers a client's onboarding needs in a standardized, repeatable way that is readily available when new team members are hired," said Matt Casey, PhD, Vice President of Content for RedVector. "Not only will the custom welcome course allow learners to absorb material at their own pace and managers to track completion and comprehension of content, but it will also greatly reduce the number of hours spent on face-to-face training each week. Essentially, new-hire training will no longer depend on an individual's availability—it's a win-win combination!"
Among the many benefits of creating a custom online company orientation course, clients will enjoy the ability to deliver consistent training to all new hires, ensure compliance with key company policies, and help HR and training managers save time and money. Optional course features include: a downloadable course PDF, Smart Notes (printable key points/highlights), and a course exam. Courses are SCORM compliant.
About RedVector
RedVector sets the standard for excellence in online continuing education and training for the architecture, engineering and construction (AEC) industry and holds more than 60 state and national accreditations. Through our award-winning Learning and Performance Engine (our version of an LMS) we offer individual courses as well as large-scale corporate training solutions for AEC firms featuring customizable and easily accessible online universities with a full range of tracking and reporting features. With an online library exceeding 1,100 courses authored by more than 100 subject matter experts, RedVector serves more than 130,000 AEC professionals in all 50 states. The recipient of numerous community honors and industry awards, RedVector was founded in 1999 and is headquartered in Tampa, Florida. For further information call 1-866-546-1212 or visit http://www.RedVector.com.