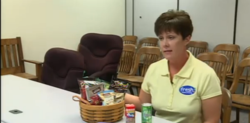 (PRWEB) May 15, 2013
Click here to watch Franchisee Colleen Young discuss Fresh Healthy Vending.
On May 14th 2013 Colleen Young, a Fresh Healthy Vending Franchisee from Mason City, Iowa, shares with KIMT TV 3 News how she was looking for an alternative to the traditional unhealthy snacks found in vending.
City Administer Brent Trout also had a hand in bringing the Fresh Vending Machines to Mason City. Listen to how it helped with their Blue Zones Certification.
For more information about Fresh Healthy Vending franchises, visit http://www.freshvending.com . To inquire about receiving a free Fresh Healthy Vending machine, visit http://www.freshandhealthy.org or call toll free 888-902-7558.