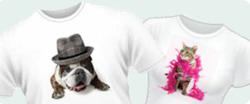 (PRWEB) May 17, 2013
ShirtMagic, a custom t-shirt printing company based in South Carolina, is offering a new component to their custom t-shirt printing services. With new technologies able to fill individualized orders as well as large group orders, ShirtMagic t-shirt printers allow shoppers to add their own personal touch to their t-shirts and jerseys. In time for the summer season, ShirtMagic aims to offer individuality and affordability to their customers across the country.
Traditionally, custom t-shirt printing was for groups or events almost exclusively. The cost of archaic screen printing practices was just too much to make designing personalized t-shirts for individual order an affordable enterprise. ShirtMagic's refined methods of direct-to-garment printing (and even embroidery) have enabled their customers to design their own t-shirt online and have it delivered to their door, at the same price as purchasing a print t-shirt from a commercial store.
Taking advantage of advancements in screen printing technology and communications, ShirtMagic aims to help create custom t shirts online, on a micro to massive scale. Just in time for summer activities that demand stylish breathable clothing, ShirtMagic's new service is priced to make designing T-shirts online affordable, accessible, and printed on high quality clothing that reflects the specialty of the service. ShirtMagic invites creative individuals to upload their own designs and create custom t-shirts for a one-of-a-kind look that no one else has, on durable custom clothing.
ShirtMagic wants to help add personality to a wardrobe. They invite interested customers to try their ease-of-use, custom t-shirt design tool online and see all of the options available for creation. As an added bonus, ShirtMagic is offering custom t-shirt printing on 100% cotton t-shirts at heavily diminished prices during the late spring, early summer; just in time for comfortable clothing and summer event needs.