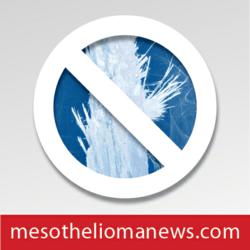 DALLAS (PRWEB) May 20, 2013
Chinese researchers have inadvertently stumbled on an effective, non-invasive treatment for easing pleural effusion, a distressing syndrome typical in advanced mesothelioma and other respiratory cancers. Formerly a standardized treatment for tuberculosis, the combination of four anti-bacterial drugs alleviated coughing and breathing difficulty in a 54-year-old Chinese woman who suffered effusion from mesothelioma-like cancer, according to an article published Monday (May 13, 2013) in the International Journal of Clinical and Experimental Pathology. 1
Although the woman's diagnosis was later revised from mesothelioma to squamous cell carcinoma, effusion characteristics were exactly parallel: cough, dyspnea (shortness of breath), chest pain, night sweats and fever. As long as she received medication, symptoms disappeared for a total of 16 months. When the regimen was lifted, symptoms eventually recurred. 1
Compare pleural effusion to slowly drowning. It is a buildup of fluid in the pleural cavity surrounding the lungs, symptomatic of advanced-stage mesothelioma and other chronic respiratory cancers. Patients experience great distress inhaling deeply, shortness of breath (dyspnea), coughing and chest pain to amplify discomfort. 1
The Chinese team believes implications could be broad and significant. "This report provides useful evidences [for] that the anti-tubercular agents may have potential anticancer activity in some carcinomas," they wrote. The 'anti-tuberculosis cocktail' consists of: isoniazid, pyrazinamide, rifapentine and ethambutol. It is non-invasive, unthreatening, and more consistent than either of two mesothelioma procedures used to siphon excessive fluid accumulation—thoracentesis or pleurodesis (chemical absorption). Researchers also note that thoracentesis and pleurodesis are painful, risky and unpredictable. 1
The mesothelioma lawyers at Baron and Budd, note, "We find these studies fascinating on their own, but we also marvel at what recently seems a recurring trend. That is, researchers are frequently learning that what works to fight another type of cancer crosses over to mesothelioma therapy."
About Baron & Budd, P.C.
Baron & Budd, PC, has been "Protecting What's Right" for asbestos patients and their families for nearly four decades. As one of the first law firms in the United States to successfully prevail in an asbestos lawsuit, Baron & Budd continues actively standing for veterans, industry workers and others suffering as a result of asbestos injury. The firm ardently encourages the U.S. to halt chrysotile asbestos imports from Brazil and join the Global Ban on Asbestos. Currently 55 countries have signed the ban including all European Union member nations. The United States has not signed. More than 30 people die each day in the U.S. from asbestos cancers. Contact Baron and Budd (day or night) at 1.866.855.1229 for additional information on mesothelioma treatments, mesothelioma cancer doctors, treatment centers, and mesothelioma attorneys. Or visit http://baronandbudd.com/areas-of-practice/mesothelioma-attorney/.
1 Surviving Mesothelioma: A Patient's Guide, "Mesothelioma Symptoms May Benefit from Tuberculosis Drugs," May 13, 2013: http://www.survivingmesothelioma.com/news/view.asp?ID=001487#.UZNvXr-TPRY.