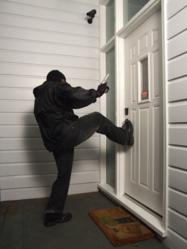 With proper training and the right security products, like the OnGARD security door brace, homeowners can protect themselves from burglars and criminals kicking in doors and trying to enter their homes.
(PRWEB) May 21, 2013
Every day, Americans fall victim to home invasions and burglaries. Jordan Frankel, the founder of Global Security Experts, has made it his life's mission to prevent these crimes from happening. With professional home invasion prevention training and the use of a revolutionary security door brace called OnGARD, Frankel says homeowners can protect themselves from violent home invaders and burglars.
Recently in Deltona, Fla., a mother and daughter became victims of a home invasion in which masked gunmen kicked in the door of their home, according to a May 15 report from WFTV Channel 9.
In the same week, a mother and daughter in Hickory, NC, experienced the same type of crime, as three men armed with guns kicked in their door. According to a May 13 WSOC-TV news article, the mother and daughter were woken up by pounding on the door, as the men kicked their way into the house.
Frankel, commonly known as the Security Sensei, said these families became the victims of home invasions through no fault of their own, but perhaps these crimes could have been prevented.
"It's awful to hear of these violent home invasions or any residential criminal activity, and I have an overwhelming desire to prevent something like this from happening to more mothers, daughters and families in the future" Frankel said. "With proper training and the right security products, like the OnGARD security door brace, homeowners can protect themselves from burglars and criminals kicking in doors and trying to enter their homes."
Frankel's specialized home invasion prevention training includes a home security makeover, basic self-defense training, and in certain situations basic firearm training. The training is typically conducted on-site at the client's home, where Frankel teaches families how to use common household items for self-defense, as well as how to flee their own home or hide in a predetermined safe space inside their home. Training participants also learn how to act and react in the case of an active home invasion.
But home invasion prevention is more than just training, Frankel said. Global Security Experts' OnGARD security door brace provides even more protection to homeowners by preventing criminals from gaining entry into the home through a door.
OnGARD's unique two-piece design was patented after five years of development. The OnGARD security door brace utilizes the strength of the existing floor around a door along with a space age polymer – the same material used in United State Military fighter planes.
Laboratory tested, the OnGARD withstands up to 1,775 pounds of violent force, resisting door kick-ins, sledgehammers and even battering rams. The OnGARD door brace is easily installed on most floors in less than 10 minutes, and it can't be defeated from the outside of the home like most deadbolts, etc.
Frankel's security inventions, like the OnGARD door brace, have been featured on several national television shows and in newspapers throughout the country, including The Oprah Show, Fox News, the Rachael Ray Show and the Boston Herald. The Security Sensei has also penned countless security articles for a variety of the most respected security magazines and publications worldwide.
Frankel has even completed home security makeovers, like the ones he provides in his on-site home invasion prevention training, for celebrities, CEOs and former presidents of the United States.
The Security Sensei is available for home invasion prevention trainings across the country, and for media interviews regarding his training or any of Global Security Experts' security products, including OnGARD, BlastGARD, BurglarGARD and more.
For more information, visit http://www.globalsecurityexperts.com.
About Global Security Experts:
For nearly two decades, the professionals at Global Security Experts have been providing affordable, customized home security solutions for the everyday citizen. The company offers the latest state-of-the-art security devices and physical deterrents to home invasion, as well as on-site training to families, businesses and individuals worldwide. Owner Jordan Frankel, known as the Security Sensei, is a highly-trusted authority in the field of residential security. To find out what Global Security Experts can do for you, visit globalsecurityexperts.com.
Contact Information:
Jordan Frankel
Global Security Experts/ShatterGARD
Globalsecurityexperts.com
(888) 306-7998 x 14