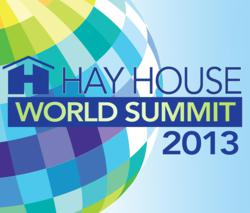 "This format of streamed learning has never been done on this grand a scale and we're thrilled to bring it to the public." Reid Tracy, President and CEO of Hay House
Carlsbad, CA (PRWEB) May 16, 2013
Hay House, the world's leading self-help publisher, is proud to introduce the first-ever Global Online World Summit – premiering June 1-10, 2013.
The Hay House World Summit will offer free access to more than 100 hours of enriching and life-changing conversations with 110 of the world's most influential thought leaders. Louise Hay, Dr. Wayne W. Dyer, Deepak Chopra, Christiane Northrup MD, Kris Carr and Suze Orman are among the world-renowned experts who, along with rising stars, will engage in exclusive conversations that provide insight and practical advice to their specific areas of expertise. During these never-before-heard interviews, they will share their personal moments of transformation. Also participating are today's new generation of spiritual teachers, who share their personal mantras…and how listeners can incorporate these strategies into their own lives.
"The Hay House World Summit is a unique opportunity for some of the world's greatest teachers to share original content with participants. This format of streamed learning has never been done on this grand of a scale and we're thrilled to bring it to the public," said Reid Tracy, President and CEO of Hay House.
This rare content—more than 100 hours of interviews—will be available in 3 languages: English, German, and Spanish, at no cost, as streaming audio – featured on the Hay House World Summit website. For 10 consecutive days listeners will be able to learn from incredible teachers on a variety of topics ranging from manifestation and past life regression to women's health and raw foods.
For more on the Hay House World Summit 2013, visit http://www.hayhouseworldsummit.com.
About Hay House
Hay House is the international leader in self-help and motivational publishing, featuring books, audios, and sidelines by more than 250 authors. Smiley Books, Visions, and Insights are imprints of Hay House, Inc, which is also the exclusive distributor for Amber Allen Press and Agape Media, Inc. Hay House has a self–publishing division, Balboa Press, as well as radio, film and television divisions. Corporate offices are in California and New York with international divisions in Australia, the United Kingdom, India, and South Africa. Please visit us as http://www.hayhouse.com.