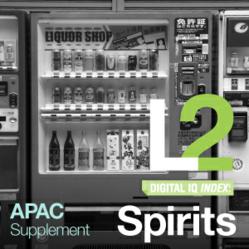 The epicenter of growth and digital innovation in the Spirits industry has shifted East.
New York, NY (PRWEB) May 16, 2013
Today, L2 released its inaugural Digital IQ Index®: APAC Spirits Supplement. The first of its kind, this supplement takes a deep dive into trends and best practices in the Spirits industry over the past year in three key APAC markets: China, Japan, and Taiwan. In total, the report examined 52 global and 5 local brands, quantifying the digital performance of each according to Site, Digital Marketing, Social Media and Mobile efforts. Authored by Scott Galloway, L2 Founder and NYU Stern Clinical Professor of Marketing, and a team of L2 researchers, this new supplement provides a complete picture of how Spirits brands are using digital to create innovative content, generate new revenue and reach fans—on all their devices—across East Asia.
"The epicenter of growth and digital innovation in the Spirits industry has shifted East. With a growing middle class and a digitally-native population, brands are beginning to utilize digital to both build brand equity and grow revenue through e-commerce."
–Maureen Mullen, L2's Head of Research & Advisory
To download an excerpt of the new APAC Spirits supplement: http://www.l2thinktank.com/research/spirits-apac-2013/
Supplement highlights:

French Cognac maker Hennessy topped the rankings in all three markets, standing out for mobile-optimization, cross-platform integration and creative localized content.
Despite lax regulation allowing for greater freedom online, only 42% of brands in China and 30% in Japan offer e-commerce.
Similarly, only 29% of brands offer a retail locator (versus 36% in the U.S. & Europe, per Digital IQ Index: Spirits 2013).
APAC is increasingly mobile-centric, though only 5% of sites in China offered a mobile-optimized site, along with 10% in Japan and 25% in Taiwan.
Only 14% of brands offer video in the local language in China, 13% in Japan, and 24% in Taiwan. 67% of Japanese brand sites lacked any video at all.
About L2
L2 is a think tank for digital innovation that helps prestige brands navigate the digital marketing landscape through events, research, and advisory services. The L2 Digital IQ Index® is the global, seminal benchmark for digital performance of brands and the largest and most robust study of its kind. Rankings are published annually across numerous industries, including: Luxury, Beauty, Retail, Travel, Spirits, Auto, and consumer packaged goods. For more information, visit: http://www.l2thinktank.com. For all membership inquiries, please email membership(at)l2thinktank(dot)com.