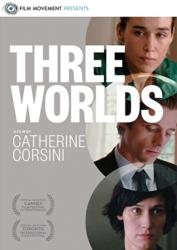 Highly engaging...Corsini's film is a pleasure to watch!
– Karin Badt, The Huffington Post
New York, NY (PRWEB) May 16, 2013
This month Film Movement's movie-of-the-month club subscribers will receive director Catherine Corsini's acclaimed French film THREE WORLDS. A suspenseful drama about a man racked by guilt after committing and drunken hit run, THREE WORLDS was an official selection to the prestigious Cannes Film Festival and called "highly engaging" by The Huffington Post's Karin Badt. The film stars Raphaël Personnaz and Clotilde Hesme.
In addition to each month's feature film, subscribers receive a short film. The May 2013 short is director Oliver Treiner's THE PIANO TUNER. The story of a piano tuner that pretends to be blind, that doesn't know how to react when he witnesses a customer commit a terrifying act.
THREE WORLDS and the accompanying short film THE PIANO TUNER are available to residents of the US and its territories only. To subscribe and see each month's selection on DVD or online streaming visit at Film Movement.
About Film Movement's movie-of-the-month club:
Film Movement's movie-of-the-month club for award winning independent and foreign film is in its 11th year. Each month on DVD or via online streaming, subscribers get Film Movement's newest film month's before it is made available to the public. In addition subscribers also get a short film each month. The club allows US residents and US territory residents, access to acclaimed new movies from all over the world.
Synopsis of THREE WORLD'S:
Al, a young man from a modest background, is ten days away from marrying the daughter of his boss, along with succeeding him as the head of the car dealership where Al has been working for most of his life. One night, while coming back drunk from his bachelor party, Al commits a hit-and-run when he hits a man by accident and is urged to leave the scene of the crime by his two childhood friends who are with him in the car. The next day, gnawed by guilt, he decides to go to the hospital to inquire anonymously about his victim. What he does not know is that the entire accident was witnessed from a balcony by a young woman, Juliette, who is going through her own emotional upheavals. Juliette not only called 911, but also helped to contact the victim's wife, Véra, a Moldavian illegal immigrant whom she decides to help and keep company at the hospital.