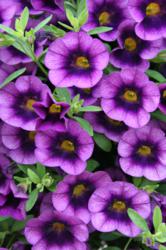 Bring the favorite color of purple home from the garden center this summer with five easy to care for varieties from Proven Winners.
Sycamore, Illinois (PRWEB) May 23, 2013
It's time to decorate the outdoors for summer! Here are five great purple choices—one for each area of the patio or landscape. Bring the color purple home from the garden center with these hot, carefree varieties from Proven Winners®.
For height in the landscape: Here is an award-winning variety that is a perfect backdrop to the smaller annuals in the flower bed. Angelface® Dark Violet Angelonia will reach a height of 18-24" with deep purple blooms that keep coming all summer long. It's also a wonderful choice for a cut flower—and will look lovely in a clear vase on a kitchen counter.
For hanging baskets: Superbells® Grape Punch Calibrachoa gets the garden party started—these deliciously colored blooms boast dark centers surrounded by true purple power. Its trailing habit makes it perfect for the hanging baskets on a front porch.
For patio containers: What more can be said? Supertunia® Royal Velvet Petunia has been a Proven Winners® top seller for many years. Gardeners depend on this all season performer for its deep purple blooms that will actually have people thinking of velvet every time they walk by. It is the perfect choice for a mixed container, or on its own in a favorite pot or basket.
For window boxes: Impress the neighbors with these luscious lilac-colored blooms as they cascade down from a window box. Superbena® Royale Chambray Verbena is a vigorous grower that is very heat resistant. Count on this variety to perform all summer long.
For the front of the landscape bed: New this year from Proven Winners®, 'Pardon My Purple' Monarda is a petite perennial that offers 2 ½-3" blooms in the heat of the summer. This easy-to-grow, fragrant perennial is hardy to zone 4a, reaches 10-12" in height and is loved by butterflies.
Depend on Proven Winners for easy-to grow, easy-to-love varieties that can bring any favorite color to the outdoor world this summer. For information on other varieties, patio container recipes or to find a Proven Winners retailer in the neighborhood visit http://www.provenwinners.com.
Proven Winners is the leading brand of high-quality flowering plants in North America, and is sold under the Proven Winners name.