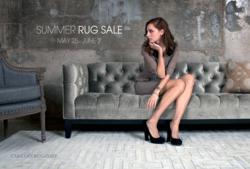 We're happy to use some of the proceeds to help fund the education of our kids.
Beverly Hills, CA (PRWEB) May 17, 2013
Caravan Rug Corp., the largest wholesaler, manufacturer and distributor of high end handmade area rugs on the West Coast has just announced their Summer Rug Sale, the biggest sale in their 30-year history. For nine days only every rug in the showroom will be discounted at least 30%, with an incredible selection of rugs flat-priced at a fraction -- sometimes less than half -- of their normal price: $1100 for 6x9, $1600 for 8x10, $2200 for 9x12, $2800 for 10x14 and $3600 for 12x15.
A portion of the proceeds from the sale will go to benefit the Beverly Hills Education Foundation, which augments the Beverly Hills public schools with much needed funding beyond what is provided by the state to give kids a world class education.
Potential donors and members of the press are encouraged to help spread the word.
"We have discounted everything in the store, including the newest and most exciting collections," says Caravan's General Manager, Jay Nehouray. "And we're happy to use some of the proceeds to help fund the education of our kids. Whether you're interested in traditional, transitional, antique or modern, now's the time to buy a rug!"
Caravan has been known for decades as a leading purveyor of traditional, transitional and antique rugs, but more recently has become L.A.'s leader in trend-setting modern designer rugs. These inspired designs have captured the attention of the industry's top interior designers and architects, and are on track to emerge at the forefront of today's carpet couture.
The Summer Rug Sale will be for locals only (not online), and will be taking place May 25, 2013 through June 2, 2013 from 9:00 a.m. to 8:00 p.m. in Caravan's giant Beverly Hills Showroom at 8725 Wilshire Blvd., Beverly Hills, CA 90211. If you're in the area between May 25th and June 2nd and a fan of high quality handmade rugs, this sounds like an event not to be missed.
For more details go to http://www.caravanrug.com/sales.
News provided by the TRIXMEDIA Marketing Team