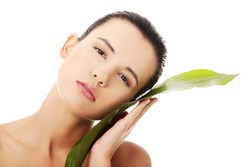 Our Collagen serum also includes the cutting-edge ingredient Matrixyl, which is a peptide made up of five amino acids to reduce wrinkles
St. Petersburg, FL (PRWEB) May 21, 2013
Sublime Beauty® is excited to introduce its Collagen Peptide serum this week, and is offering a 20 percent discount to all. The clear smooth serum is stock full of beneficial peptides, moisturizers and of course, collagen and elastin. The serum absorbs well and feels refreshing on the skin.
Use in the morning before applying makeup while and/or at night before night creams is recommended. "Some clients who wear light makeup are telling me that they put a little of the serum under their eyes (on top of makeup) and refresh with it at lunchtime," says Kathy Heshelow, founder of Sublime Beauty®.
Collagen makes up more than 70 percent of our skin and is responsible for "holding it together" for that youthful, firm and supple look. As aging occurs, skin is less able to generate collagen and it diminishes, which is a partial cause for sagging and wrinkles. It is estimated that by age 40, the body has lost 15 percent of collagen production and by age 60, it has lost 45 percent. By using collagen topically, as well as peptides that encourage more collagen production, skin is supported and gains a more youthful look.
"Our Collagen serum also includes the cutting-edge ingredient Matrixyl, which is a peptide made up of five amino acids to reduce wrinkles. This ingredient was found in clinical tests to nearly double collagen production. Matrixyl (also found in Sublime Beauty's Face Whisperer® Night cream and Face Whisperer® Neck and Decollete cream) was recently highlighted in an important study, and covered in London's The Mirror.
"We are so excited to offer quality products that are carefully formulated for our clients. The Collagen Peptide serum is a great base for every antiaging strategy," says Heshelow. The 20 percent discount continues through May 24th while supplies last.
About Sublime Beauty®
Sublime Beauty® is an anti-aging skin care company focusing on quality products.