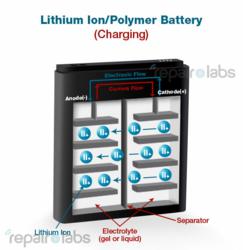 "Lithium Ion and Polymer batteries can only carry us so far. We've come to the point where it's time to consider new and exciting battery concepts like Solid-State and Lithium Sulfide." Jason Draper, resident IT Manager
Wichita, Ks (PRWEB) May 17, 2013
RepairLabs, an online express-ship electronics device center went deep into the current state of phone batteries, looking into why they're always dead or almost dead, as well as why they degrade at an unacceptable pace. They also created a video showcasing the battery drain through a video time lapse, showcasing the quick death times of three of the hottest phones on the market today.
"The iPhone being drained so quickly shocked me, honestly. I knew that phone batteries aren't lasting long these days, but the life time for those batteries was unacceptable!" DJ Dixon, Community Director for RepairLabs said once he saw the time lapse.
Having taken a look at current batteries and their flaws, RepairLabs went on to cover what the future holds for phone batteries, while also getting a quote from Professor Jones and the University of Florida, a respected Professor and researcher in the field of batteries, among other things. His thoughts on the subject matched that of RepairLabs – that it's time to start considering more powerful alternatives sooner rather than later.
"Lithium Ion and Polymer batteries can only carry us so far. We've come to the point where it's time to consider new and exciting battery concepts like Solid-State and Lithium Sulfide." Jason Draper, resident IT Manager with RepairLabs stated after seeing the phone testing firsthand.
About RepairLabs.com: RepairLabs was founded in 2009 to provide consumers with an excellent and affordable repair shop for Apple devices, and has continually expanded until now, where they cover almost all major mobile electronic devices. Nationally recognized as a leading source in repair knowledge, the RepairLabs blog has consistently delivered cutting-edge analysis and reports and has been sited on countless authority news hubs, such as; TechMeme.com, Forbes.com, and theVerge.com . Lean more at http://www.fix-iphones.com/ipad-repair.html or call 1-888-755-1115. ###
DJ Dixon
(316) 869-2865.
RepairLabs.com.
mmgmediadept(at)gmail(dot)com