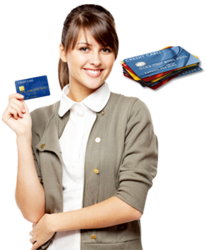 Greenville, SC (PRWEB) May 16, 2013
Bad credit scores are the modern American plague. Thanks to our currently struggling economy, it is far too easy to badly damage one's credit, and far too hard to build it back up. Credit Cards are often needed for emergencies like unexpected medical bills or the need for transportation. However, many people do not have a credit card and will find it nearly impossible to obtain one due to their damaged credit scores or history. In the event that anyone needs a credit card, but are being held back by crippling credit scores, Credit Help Cards offers a new and unique solution.
Those who have been rejected by their bank or other credit card providers still have hope in Credit Help Cards. The business is able to approve over 95 percent of their applicants for major credit cards with high maximums, low rates, and no hidden fees. Customers even have the chance to tailor the card to their specific needs. When applying, customers may pick which type of card they would prefer (MasterCard, VISA, Discover, and American Express). Credit Help Cards also makes sure that each card type and agreement is perfect for their customers by making sure that the payments and rates are affordable and reasonable for each applicant.
To apply for a credit card today, visit http://credithelpcards.com/
Although the world of credit can be difficult to deal with, Credit Help Cards is making the whole system a little brighter, and working for the rights of the client. Anyone in need of a credit card can find what they need at http://www.CreditHelpCards.com.
About CreditHelpCards.com
Credit Help Cards is the leading credit card finance provider in USA fully dedicated to help its customers acquire a credit card regardless of credit history. They design and develop customized no credit credit cards, bad credit credit cards, and good credit credit cards. Voted the best for "Quality Customer Service; Best National Credit Cards Service" by thousands of people, their finance experts focus in providing its customers information and various tools available for different credit card offers, help them to choose the best that fits their goals and needs.