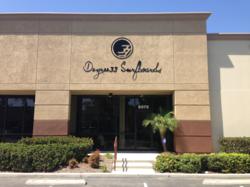 We are entering a new era for Degree33 and we are really excited about it!
San Diego, CA (PRWEB) May 16, 2013
Wax up that board and grab your party coozie. Degree33 Surfboards is proud to announce their new home. The new location sits right next to Alesmith Brewery who has teamed up to celebrate with Degree33 Surfboards' grand opening. From Friday, May 17 through Sunday, May 19, Degree33 Surfboards will give away a free surfboard padded day bag and leash with every surfboard purchase.
On Saturday, May 18, from 1-4pm, Degree Surfboards will be hosting their grand opening party. Join in and celebrate with local craft beer from Alesmith. Indulge in local food while jamming out to live music performed by local band Leanna May and the Matadors. The grand opening party will be held at the new address, 9372 Cabot Dr., San Diego, CA 92126.
The new warehouse, though three times larger than the latter, is stacked to the roof with high performance surfboards geared to spread the excitement of surfing to shredders of every level. The Cabot Drive location also boasts a brand new showroom, featuring their full surfboard and accessories lineup including a sneak peak at their signature series accented by local artists. Degree33 surfboards are all hand-made and feature the wizardry of San Diegan Bill Minard, a forty-year veteran and legendary shaper.
Luc and Holly Stokes started Degree33 Surfboards eight years ago in hopes of spreading their love of surfing to those around them. Though they're relatively new to the sport by "local" standards, they've fully immersed themselves in the lifestyle and stoke from day one. For more information on the grand opening event and Degree33 Surfboards call 858-693-3692, visit http://www.Degree33Surfboards.com, follow Degree 33 Surfboards on Facebook and Twitter, or email surf(at)degree33(dot)com.