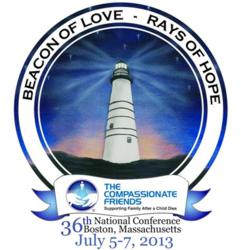 This conference . . . will be a safe-haven for those going through the grieving process.
Oak Brook, IL (PRWEB) May 16, 2013
More than 1600 family members grieving the death of a child will converge on Boston, MA for The Compassionate Friends 36th National Conference July 5-7.
"The east coast has, sadly, had more than its share of tragedy this past year," says Patricia Loder, executive director of The Compassionate Friends who herself is a twice bereaved parent, as well as a bereaved sibling. "This conference, by design, will be a safe-haven for those going through the grieving process and they will be able to spend time with others who are walking the same path."
Keynote speakers for the conference, the largest of its kind in the United States, are well known in the grief world: Tina Cherry who, after the murder of her son Louis, created the Louis D. Brown Peace Institute with a mission to create and support an environment where families can live in peace and unity. Ken Druck, bereaved parent and founder of the Jenna Druck Foundation, and one of the nation's pioneers in personal transformation including healing after loss; Bill Hancock, director of college football's Bowl Championship Series and author of Riding with the Blue Moth, and father of Will, who was killed in the 2001 crash of an airplane carrying members of the Oklahoma State University men's basketball team; Dr. Heidi Horsley, Dr. Gloria Horsley, founders of "Open to Hope" Foundation and Phil Horsley, Chair of TCF Foundation's Board of Trustees, a family united after the loss of son Scott, will combine for the conference opening.
In addition, there will be more than 100 workshops covering most aspects of grief after the loss of a child; sharing sessions; memory boards; reflection room; complete book store; and a Remembrance Candle Lighting following the Saturday Evening banquet; and much more. There will be plenty of quality entertainment including the East Coast Acappella performance Friday evening. The 14th annual Compassionate Friends Walk to Remember® will start Sunday near the hotel at 8 a.m. and more than 1600 are expected to register.
This year's conference theme is "Beacon of Love – Rays of Hope," and registration may be made online at 2013 TCF National Conference. Early registration discounts for the conference end June 1, with pre-registration ending June 14, 2013. On-site registration will be available. The conference will be held at the Boston Sheraton, 39 Dalton St. although those now registering for the conference may have to reserve rooms at an overflow hotel. For more information, call 877-969-0010 or visit http://www.compassionatefriends.org.
The Compassionate Friends/USA has 660 chapters serving every state plus Washington DC, Puerto Rico, and Guam. The Compassionate Friends is the world's largest self-help bereavement organization for families that have had a child die. The organization has a presence in at least 30 countries worldwide. There is no charge for any outreach services.