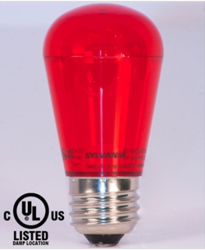 Chicago, IL (PRWEB) May 16, 2013
Go Green LED Bulbs, a leading distributor of energy efficient products, now provides Sylvania brand LED S14 light bulbs. Sylvania is a well-known and trusted brand that manufactures durable, high-quality products. The bulbs are offered at a reduced price, in comparison to other S14 LED light bulbs from other lighting retailers.
S14 shaped bulbs contain a very similar shape to A19 bulbs, but are slightly less rounded, and are generally smaller than the typical household bulb. S14 light bulbs are most often used in lighting applications for entertainment and hospitality use, but may also fit into the standard A19 applications. They are often referred to as "sign and marquee bulbs." Hotels, casinos, theaters and amusement parks typically use this type of light bulb for their exterior signs or amusement rides. However, S14 bulbs are also used in scoreboards and stage lighting, as well as restaurants and retail stores.
The new 3.14" x 1.73" Sylvania S14 LED light bulbs Go Green LED Bulbs has added to their product line are a direct replacement for 11 Watt S14 incandescent light bulbs. The brightness that the S14 LED bulbs emit is equivalent to that of an 11 Watt incandescent bulb; however the LED bulbs consume less energy, and therefore, use less than one Watt. Also because the LED bulbs consume less energy, they contain a lifespan of up to 50,000 hours, rather than the 2,000 hour lifespan of S14 incandescent bulbs.
Customers are able to locate the new bulbs on Go Green LED Bulbs' website under the S14 Bulbs category. The bulbs are available in a variety of colors and are able to blink and chase. The frosted bulbs are suitable for use in wet locations--meaning they are durable enough to be used outdoors in places with heavy precipitation—while the clear bulbs are suitable for use in damp locations. The light bulbs are extremely durable and are not susceptible to damage from shock or vibration, and are UL, CE, and RoHS compliant.
LED light bulbs are quickly becoming the replacement for incandescent light bulbs. They are the most energy efficient light bulb available on the market today, with up to 90% energy savings over incandescent bulbs, making them environmentally friendly. Because of their lowered energy consumption, they reduce electricity costs, allowing businesses and households to save money. LED light bulbs contain longer lifespans--lasting a decade, rather than a few years--making them ideal for hard-to-reach lighting applications, or for lighting fixtures that must operate for long a long period of time, such as streetlights.
ABOUT GO GREEN LED BULBS
Go Green LED Bulbs is a leading distributor of energy efficient products including LED light bulbs, exit signs, LED Christmas lights, LED flashlights and more. Located in Round Lake Beach, IL, Go Green LED Bulbs works hard to inform the consumer so they can make the best decision on what LED lighting products are right for their residential or commercial space.