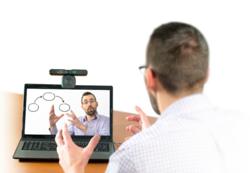 Chicago, IL (PRWEB) May 16, 2013
Personify Live™, a Web conferencing tool from immersive video technology company Personify, announced today it has been placed by G2 Crowd in the innovator category of the G2 Grid, based on user reviews and analysis of social signals. Innovators represent emerging market leaders that offer products that rate highly by users and demonstrate momentum in the marketplace. Personify Live is the first Web conferencing tool that overlays real-time video of the presenter onto a PowerPoint presentation, online demo, video or any other content.
According to the G2 Crowd Grid, Personify Live is currently considered the innovator in the Web conferencing segment. The category includes Cisco's WebEx, Citrix GoToMeeting and Skype – all products that integrate with Personify Live. Designed for the enterprise, Personify Live is already being used by members of the Fortune 500, and the product is also seeing adoption with professors in the university setting.
"Personify Live stands out because of its ability to seamlessly merge presenter and content into an enjoyable Web conferencing experience," said Dr. Sanjay Patel, cofounder and CEO of Personify. "We hear from clients regularly that they are using Personify Live to drive meaningful results for their business, especially for their sales and marketing initiatives."
In one example, a marketer who used the tool to facilitate webinars said that 90 percent of attendees reported being more engaged with content delivered through Personify Live than via traditional webinar tools.
Reviews from Personify Live users comprise the G2 Grid rankings.
"We designed G2 Grid so decision-makers in the enterprise can buy software with confidence based on real user reviews rather than subjective analyst opinions," said Matt Gorniak, cofounder and COO at G2 Crowd. "Based on verified reviews from real users, Personify Live has positioned itself as an innovator and emerging leader in the Web conferencing software marketplace."
Personify's patent-pending user extraction technology superimposes video of the presenter onto any background, creating a virtual green screen experience. Presentations can be recorded, stored and shared, and the accompanying mobile app for iPhone and Android devices acts as a remote control for the presentation.
Personify Live is compatible with Windows Vista, 7 or 8, and a Mac OS X version is in development. Sign up for a free trial of Personify Live on the Personify website.
About Personify
Personify is an immersive video communication company focused on bridging the gap between communicating remotely and talking face-to-face. Personify creates a deeper sense of presence while remote by seamlessly merging human interaction with digital content. Its flagship software product, Personify Live™, embeds real-time video of a speaker into any setting. Established in 2009, Personify is backed by a number of strategic leading venture capital firms. For more information, visit http://www.personifyinc.com.
About G2 Crowd
G2 Crowd is the first trusted source for enterprise software reviews. Business technology buyers use the site to compare and select the best software based on peer reviews and synthesized analysis of online trends. Founded by proven entrepreneurs who previously built BigMachines into an SaaS leader, G2 Crowd aims to bring authenticity and transparency to the business technology industry. For more information, go to http://www.g2crowd.com.