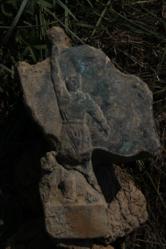 (PRWEB) May 15, 2013
Archeologist's Collection is Grisha Bruskin's new exhibit opening May 17th at the Udarnik in Moscow. Organized by the Artchronika Cultural Foundation, Bruskin's exhibit creates a life-size archeological excavation site on the ground floor with a supplemental video installation by Archival Magazine on the second floor. The video includes Archival Magazine's unseen footage of its documentary film on the life and work of Grisha Bruskin which premieres in theaters this Fall.
The excavation filmed by Archival Magazine began for Bruskin as a mass grave of Soviet figures and emblems pertaining to the fall of the USSR. Through archeology, the figures further signify a great resurrection. The reclamation of the many hard sacrifices made by the people of that age. The sculpture of Prisoner stands for the estimated 15m lives lost to the gulag whose actual historic burials may not be visited by families. There are soldiers that express the sacrifices of the many wars fought during the Soviet time-- approximately 30m casualties in WWII alone including young pioneer children commissioned for military duty. There are children, a doctor, a worker, a bride, a groom... 33 statues and emblems buried and recovered to embrace throughout time. Bruskin's Archeologist's Collection is tender, mournful, respectful, and wise.
Bruskin's exhibition was chosen to open the new contemporary art museum, because of the building's prominant history. Stalin commissioned the building to house elite party members close to red square. Many of these residents were later executed in Stalin's purges of the 1930s. Postwar, the building showed classic Soviet films, and this same structure, now owned by Shalva Breus, offers an arts memoria by Kandinsky Winner Grisha Bruskin to begin a new time with a new experience entirely.
Compared to Bruskin's permanent installation, Life Over All, commissioned for the reopening of the Reichstag in Germany in 1999, Archeologist's Collection at the Udarnik is, for Russians, worth a lifetime of waiting.
The museum will be open Tuesdays through Sundays from 11 am to 8 pm, and closed on Mondays. The regular ticket price is 200 rubbles, and the concessionary ticket price is 100 rubbles. The Udarnik is located on Serafimovich st., 2. For more information, please email info(at)archivalmagazine(dot)com
Archival Magazine is a high definition video streaming publication that produces entertainment content for film, television, the web, and mobile devices. Using powerful cinematic approaches to storytelling, Archival Magazine presents visual and performing arts, literature, architecture, archeology, history, political science, economics, anthropology, travel, and health from past ages to current and coming ages. The stories featured by Archival Magazine demonstrate the gravity of art and age.