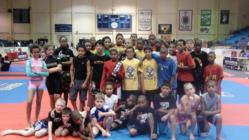 Camp Springs, MD (PRWEB) May 16, 2013
Lloyd Irvin Martial Arts Academy has long been a staple organization in the Prince George's County community. The academy hosts youth events throughout the year to help raise money for their stellar youth competition team. This weekend will host the Lloyd Irvin Martial Arts Academy Annual Youth Festival 2013.
The festival will bring members of the academy together, including youth, adults, parents, friends and family to celebrate the warm weather and success of the academy and it's youth team. The festival will have food, beverages, games, music and fun for all attendees. There will be face paintings and moon bounce for the little ones, and skills games and challenges for the teens.
The Lloyd Irvin Martial Arts Academy Youth Festival is open to all Academy members, family and friends, with a small donation of $25 per person. All proceeds will go directly to the Lloyd Irvin Martial Arts Academy youth Competition Team for the 2013 IBJJF World Championships later this month.
The Lloyd Irvin Martial Arts Academy Youth Team won the IBJJF Worlds Juvenile Team Title in 2010 and 2011. The kids on the 2012, 2011 team are now old enough to compete as adults in 2013. There will be 6 youth competition athletes going to Worlds to compete as adults for the first time.
Among the young athletes are Aarae Alexander, 5-time World Champion. Aarae was promoted to purple belt, after winning the Worlds adult blue belt female feather weight class in 2012. Earlier this year, Aarae won the adult female purple belt light weight division at the IBJJF Pans in April.
For more information on Lloyd Irvin Martial Arts Youth Program, please go to http://www.kidskarateclasses.com. The academy offers 30 Free Days and classes for kids, teens, adults, and women. For information on other classes offered at Lloyd Irvin Martial Arts Academy, please go to http://www.lloydirvinlive.com