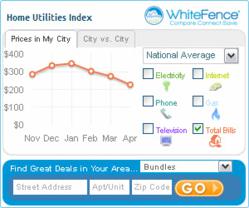 Houston, TX (PRWEB) May 16, 2013
Today, WhiteFence announces the release of its all-new Home Utilities Index widget. This useful tool tracks the prices of high-speed Internet, television, home phone, natural gas, and electricity services in the nation's top 20 cities. The widget makes it simple to view average prices for these services and discover month over month trends in pricing. All pricing information comes from WhiteFence's exclusive database of pricing, and is another way WhiteFence leverages its data to help consumers get the best deal.
Consumers looking to save money on their home services and utilities can easily see their current city's averages for all categories and compare their own bills over a six month time period. This tool can also compare home utility averages between two cities over the previous six month time frame. In addition, the new widget makes it simple for consumers to see how their utility prices compare to the national average.
Understanding these trends helps consumers determine if they are paying too much for their services. For those interested in switching products, they can see the direction prices are trending, making it easy to gauge if it's a good time to switch.
Not only does the tool display average monthly pricing, it also provides an address form consumers can fill out to discover what providers and plans are available in their area. This makes it simple to find out exactly how much consumers could be saving with a different product.
The Home Utilities Index tool will appear on WhiteFence.com, and will also be distributed across WhiteFence's many partner sites. WhiteFence is dedicated to helping consumers lower their bills with the best deals on home services and utilities, and the new Home Utilities Index widget is the latest way they are helping spread the savings. Check out this new tool on http://www.WhiteFence.com and start saving on your monthly utility bills today!
ABOUT WHITEFENCE
WhiteFence is a free service that helps homeowners and renters compare, connect and save money on phone, internet, television, electricity, natural gas, and other home services. By simply entering a street address onto the secure site, people looking to save money or start new service can find the most comprehensive list of plans available for their specific address from over 300 nationally recognized partners. As a trusted home service shopping source for 20 million people annually, WhiteFence makes it easy to establish service directly on the site in a few simple steps. WhiteFence is an Internet Capital Group partner company. WhiteFence is headquartered in Houston, Texas. For more information, please visit WhiteFence.com.