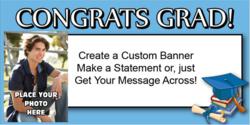 Chicago, IL (PRWEB) May 16, 2013
Chicagoland party supplies retailer, Windy City Novelties, has added a new feature to their existing banners and invitations product line. The banners and invitations were previously customizable in the sense that customers were able to add their own text to such items. Now, customers are able to upload their own photo to appear on the banners and invitations, as well.
Banners are typically used at large events—such as charity events and business events—but can also be used at smaller parties. Windy City Novelties' banners are made of heavy duty vinyl, making them durable enough for use year after year. The retailer provides a variety of banners with themes for virtually every type of occasion, including a selection of sizes. Available sizes consist of 12" x 24", 18" x 36", 24" x 48", 36" x 72", and 48" x 96". Individuals are able to find banners for birthday parties, graduations, sporting events, Bar and Bat Mitzvahs, bachelorette parties, and more. The retailer also provides customizable banners in a general theme that can be used for any event.
Windy City Novelties' new photo feature for banners and invitations allows customers to add a personal touch to such parties and events by adding a photo of the guest of honor. In order to submit a photo to be printed on a banner, individuals must visit the website and locate the banner of their choice. They then must click on the "Personalize your banner" button and proceed to upload their photo, as well as type out their desired message with customizable font, size and color. The photos are printed on the banners with state-of-the-art, high definition large format digital printers. Each banner contains grommets along the edges for easy hanging.
In order for individuals to add a photo to customizable invitations, they must carry out the same process as adding a photo to the banners. As with the banners, Windy City Novelties provides invitations in a number of different themes, allowing customers to use them for parties and events, as well as save the date and other announcements. Customers are able to choose from 12 font styles and 24 colors. Invitations are available in 4" x 6" or 5" x 7", and matching envelopes are included.
Visit the photo banners and invitations category on the Windy City Novelties to check out all the fun options available.
ABOUT WINDY CITY NOVELTIES
Windy City Novelties, a party supply company founded in 1983, is known for their great selection and competitively priced items. They have an A+ rating from the Better Business Bureau and are also a NexTag 5 star Seller. From their website, windycitynovelties.com, they offer fast and friendly shipping along with great customer service. From glow sticks in every color of the rainbow, to party decorations in a variety of themes, and even a vast selection of Halloween costumes at the best prices, Windy City Novelties has over 15,000 products and adds more each week. Windy City Novelties also provides party and gift ideas and advice. For help or more suggestions, email our experts.