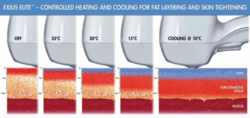 San Diego CA (PRWEB) May 28, 2013
Moradi M.D., an aesthetics practice headed by Dr. Amir Moradi, a San Diego plastic surgeon, is pleased to announce that Exilis ELITE™ has been added to their already robust menu of facial and body contouring treatments.
"For some patients, surgery may not be the first or most desirable option for treatment. This is the very reason we offer these patients a non-invasive alternative such as Exilis, and now Exilis ELITE," says Amir Moradi, M.D.
The Exilis ELITE, by BTL Aesthetics, was introduced at the American Academy of Dermatology in March 2013 as the next generation Exilis device for reducing wrinkles and treating skin laxity. This comfortable, yet powerful treatment, is commonly performed on facial and body areas. This San Diego plastic surgeon is pleased to offer the latest update for the already successful Exilis.
The Exilis has long had a well-defined position in Moradi M.D.'s Body Contouring Center. With the Exilis ELITE re-engineered to meet patient demand for better, faster and safer face and body rejuvenation in fewer treatment sessions they expect more patients will seek out this innovative treatment for that purpose, as well as an anti-aging tool.
"Patient feedback and satisfaction with our previous Exilis was outstanding. The new technological developments that come with the ELITE will only create a more satisfactory outcome," says the San Diego plastic surgeon, Dr. Amir Moradi.
Utilizing the dynamic monopolar radio frequency (RF) technology of the original Exilis system, Exilis ELITE enhances delivery of thermal energy by nearly twice as much, requiring only two to three treatments to obtain desired results. This higher level of efficacy is achieved by delivering maximum power and speed of high frequency radio waves using BTL's proprietary Energy Flow Control™ and Impedance Intelligence™ breakthroughs. These features provide very precise and uniform distribution of heat to the entire treatment area. ELITE's advanced cooling also allows for layering of RF energy at various depths.
The deposit and distribution of this heat into the skin stimulates new collagen formation as well as strengthening and tightening of the connective tissue bands that support the skins structure. The visual results to patients include tightening of lax skin, smoothing of fine lines and wrinkles and in some cases a lifting of the skin in the areas treated.
San Diego plastic surgeon Dr. Moradi and his team at Moradi M.D., offer a large array of cosmetic services including; facial plastic surgery, dermal fillers and wrinkle reducers, laser treatments, body contouring and fat reduction, and medical grade skin care services and products. The physician and staff of Moradi M.D. pride themselves with providing patients with the utmost professional and personalized care. They strive to show their customers how they can look their best through affordable cosmetic enhancement and skin rejuvenation.
             
Dr. Amir Moradi, the founder of Moradi M.D., is double board certified in Facial Plastics and Reconstructive Surgery as well as Otolaryngology.