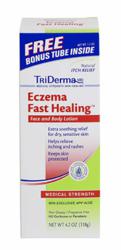 "The local pharmacy is becoming a health and wellness destination. TriDerma is thrilled to be a part of helping people feel better."
Anaheim, CA (PRWEB) May 16, 2013
TriDerma announced that it has added Eczema Fast Healing™ and Psoriasis Control™ to the First Aid assortment at pharmacies and supercenters nationwide.
The percentage of children with eczema or any kind of skin allergy has seen significant growth for over a decade. (See CDC chart) Eczema, or atopic dermatitis, is an inflammation of the skin, often characterized by itching and rash. While some children grow out of it, the National Institute of Arthritis and Musculoskeletal and Skin Diseases reports that 60% of infants will carry the disease into adulthood. (See NIAMS report)
Psoriasis is the most prevalent autoimmune disease in the United States. Patches of thick, red skin and silvery scales appear on the skin. Symptoms can come and go. The National Institutes of Health lists infections, certain medications, stress and dry skin as the things that can make Psoriasis symptoms worse.
Angie Echele, Vice President of Sales at TriDerma, says "National drug chains and supercenters are thinking of the First Aid department as a place where consumers can find affordable help for ongoing needs. The local pharmacy is becoming a health and wellness destination. TriDerma is thrilled to be a part of helping people feel better." The TriDerma website provides store locations.
While there is no known cure for either of these skin conditions, TriDerma Eczema Fast Healing™ and Psoriasis Control™ are designed to help provide relief from symptoms and flare-ups. Both products begin with the company's proprietary botanical complex called AP4® Genuine Virgin Aloe. Then, the formulas are customized to address each condition's specific needs. Both products help relieve itching without the use of cortisone, so they can be used as often as needed.
Eczema Fast Healing™ is a rich cream that can be used on the face and body. Deborah, a customer from Ohio said, "In my 32 years as an Eczema sufferer, I have never had a product work as quickly with such tremendous results as TriDerma Eczema Fast Healing…I stopped at the grocery store this morning to pick something up to stop the itch! With limited expectations, I bought the product and applied it. For the first time, seven hours later it occurred to me that I hadn't been itching."
Psoriasis Control™ contains a unique combination of AP4 Genuine Virgin Aloe, Salicylic Acid, Vitamins, Oat Protein and other specialized ingredients to help moisturize, relieve itch and promote skin repair. The cream is gentle enough to use on sensitive skin, including the scalp. Irene, a customer from Illinois, has endured Psoriasis for more than sixty years. She says, "To say Psoriasis is painful and itchy is an understatement!" She happened upon TriDerma Psoriasis Control Cream in a grocery store and she says, "I immediately felt relief of the itching--which is a godsend!!! Further days of use helped remove the scaly patches and lessen the redness."
Click here for more information and customer reviews on Eczema Fast Healing™.
Click here for more information and customer reviews of Psoriasis Control™.
About Triderma
Headquartered in Anaheim, California, TriDerma has stood for fast healing without a prescription for 21 years. Founded upon the determination of one woman seeking a natural healing solution, TriDerma now manufactures over 50 products available online and in the First Aid, Skin Care and Baby section of drugstores and supercenters across the U.S. and the world. TriDerma formulas are purpose-driven to help heal specific skin conditions without the use of cortisone, steroids, parabens or other harmful ingredients. Proprietary formulations made in the USA ensure quality and efficacy are never compromised. TriDerma is a women-owned company. For more information and a store locator go to http://www.Triderma.com. Follow us on
Facebook at Facebook.com/TriDerma.
Contact:
Angie Echele
636-633-6499