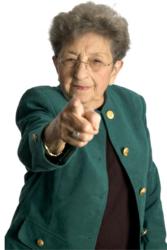 I'm charged with noting when other employees come late or leave early.
Anchorage, Alaska (PRWEB) May 15, 2013
Lynne Curry, Ph.D., SPHR (CEO of The Growth Company, Inc.) has over 30 years of experience in management consulting and frequently receives questions from clients regarding situations in the workplace. Today, Dr. Curry releases an article directed toward employees that are bullied by co-workers because their job duties make them the "bad guy."
Dr. Curry received this message from a client, "I work in a job I really like… besides managing the office for an apartment complex I'm charged with noting when other employees come late or leave early. As a result, some employees don't like me. The worst two are a married couple. The wife is always sneaking out early and when she turns in a time sheet that shows she's worked eight hours a day and 40 hours a week, I write the times she arrived and left and pay her appropriately. Each week I have the cheerful duty of having her sign off on these corrections. Then her husband visits me in my office and calls me names, puts his finger in my face and tells me that he'll hurt me if I ever come around his family. This guy scares me. The last time he did it, my boss was standing right there and told me, 'Don't let him get to you; he's just blowing off steam.'…I don't know what to do other than to hold my breath when this all happens."
Read on to find out how Dr. Curry responds!
Click here to read the full article.
The Growth Company, Inc. is a Human Resource and Management consulting firm specializing in soft skills training, facilitation and mediations as well as investigations, coaching and manual/policy write ups and re-writes. The Growth Company, Inc. was established in 1978 and is one of the longest lasting consulting firms in Alaska. For further information about The Growth Company or Dr. Lynne Curry click here . The Growth Company also has a Workplace Coach Blog, where Dr. Lynne Curry and other HR professionals post about everyday situations that a manager or supervisor may come across. They provide insight and the correct way to approach and handle these situations.