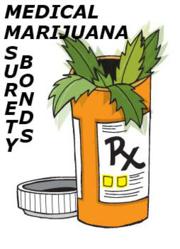 All Colorado Medical Marijuana Surety Bonds expire June 30th, get a new bond today for as low as $100.00!
Denver, CO (PRWEB) May 22, 2013
A1SuretyBonds.com, a leading provider in surety bond procurement services, announced today that they are offering rates as low as $100.00 for all $5,000.00 Colorado (CO) Medical Marijuana Dispensary License Surety Bonds that are all set to expire the last day of June 2013.
The statutory expiration date for all $5,000.00 Colorado (CO) Medical Marijuana Dispensary License Surety Bonds is June 30, 2013. Licensed Medical Marijuana Dispensaries doing business in the State of Colorado, are required to post and maintain a $5,000.00 Bond with the CO Department of Revenue to guarantee reporting and payment of all required taxes collected in the process of transacting business. The Company urges all Medical Marijuana Dispensaries to compare existing rates with the rates they are able to offer. Programs are also available for damaged credit accounts so that individuals with any credit score can still get the bonds that they need.
A1SuretyBonds.com is now able to help save individuals' time and money in securing and/or replacing the required $5,000.00 Colorado (CO) Medical Marijuana Dispensary License Surety Bond by offering low rates and never charging a fee. They offer individuals free, no obligation quotes to those who are interested. To find out more information please visit A1SuretyBonds.com.
According to the company, "consumers now have the ability to apply for and secure the required surety bond with a limited time commitment on their part… allowing them to focus on their business and not spend countless hours looking for the lowest rate." With the most comprehensive list of available surety bonds on the internet, the team of professionals at the company stands ready to meet the needs of their customers.
ABOUT A1SURETYBONDS.COM
A1SuretyBonds.com is a leading provider of surety bond procurement services, utilizing a web-based platform that provides ease of use and timely response in order to meet the needs of our clientele. Most bonds are issued within 24 hours or less and are only written with AM BEST A-rated and Federal Treasury Circular (T-List) Listed Surety companies. A1SuretyBonds.com is one of the few surety bond only agencies with a staff dedicated exclusively to surety bonds.
Applicants can apply online or contact an underwriter directly for a free, no obligation rate quotes. For additional information contact one of the underwriters at A1SuretyBonds.com via phone at 800-737-4880, email at info(at)a1suretybonds(dot)com or visit http://a1suretybonds.com.