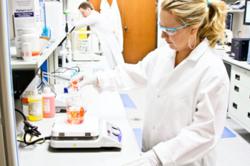 Brea, CA (PRWEB) May 17, 2013
IAC Industries wants to share with you the success story of DisperSol Technologies, a start up laboratory needing to set up and furnish a research lab knowing that the company would be moving to a larger facility within a year's time. How does a company make choices in lab furnishing with the knowledge that the laboratory is temporary? What is efficient and cost-effective?
The solution was the versatile Dimension 4 Series modular workstations from IAC Industries. The planners at DisperSol determined that the concept of modular lab furniture was ideal for their situation. IAC's Dimension 4 Workstations have an almost limitless number of configurations that are safe, ergonomically sound and independently adjustable; a departure from the traditional casework and cabinets that are permanently affixed to walls and floors.
What drove DisperSol Technologies to embrace the modular furniture can be summed up in one word, "flexibility." Example: Outfitting their lab with IAC's Dimension 4 Workstations took just days instead of weeks, as most often is the case with traditional built-in casework. The selection of modular fixtures also prepared DisperSol for their anticipated expansion as the entire line of products can be disassembled, moved and reassembled in their new location with minimal downtime.
Dave Miller, PhD, VP of Research and Development at DisperSol describes the equipment as "meeting the needs of their expanding business." As organizational efficiencies are discovered, the workflow of the lab can be reconfigured easily with the modular furniture. He also credits the construction of IAC's Dimension 4 Workstations as "having the same sense of permanence as a built-in, as well as being useful and ergonomic."
You can read much more in the full Success Story, including photos of the DisperSol laboratory. View and download today at [http://www.furnitureforlabs.com/casestudy-dispersol.asp .
IAC Industries has been a key manufacturer of steel laboratory furniture since 1991. Entry into the laboratory market was inspired by IAC's award winning Dimension 4 workstation, introduced in 1985. The Dimension 4 has evolved into the D4L lab station, dedicated to laboratory deployment. IAC products are 100% made in the USA by Union Labor, and are sold worldwide. IAC Industries currently offers the widest range of workstations, workbenches, seating, and workstation-related accessories available from a single manufacturer. For more information, contact IAC Industries at 714-990-8997 or benchsales(at)iacindustries(dot)com.