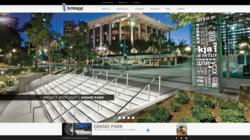 "We believe our web site is the most important tool we can provide for our customers" Kenny Eidsvold, Company President
Anaheim, CA (PRWEB) May 16, 2013
Intense Lighting, Inc. a leading manufacturer of award-winning LED specification grade lighting solutions is pleased to announce the re-launch of its corporate web site. The new site features enhanced functionality, a new, sophisticated and progressive design along with highly detailed content. It also features a comprehensive, easy-to-navigate product section.
Visitors will appreciate the use of cutting-edge build technology in its sophisticated design. Unique features include a detailed search engine and customized slider/sear/sort function that easily and quickly identifies products by product lines such as "Track Lighting" and then more specifically, "LED Track Lighting". Products are also filtered and sorted by interior and exterior lines so visitors can find exactly what they are looking for in just a few clicks. There is also a dedicated section featuring the company's new LED V-Rail System.
One of the most important additions to the site's product section is a full listing of all the available support documents one can now download directly from each product page. It's all conveniently located in one place and includes spec sheets, IES files, installation recommendations, technical documents, lighting facts warranty information and more.
With the use of a unique quick jump feature, visitors can instantly and conveniently move to any page or section. To further showcase the diversity of installations and product applications, Intense Lighting has also created a series of Product Spotlights featured prominently on the home page. They offer interesting, anecdotal, real-world usage of Intense products in a variety of applications while providing lighting design ideas and solutions. We encourage specifiers to share their success stories and installation images for future spotlights.
"We believe our web site is the most important tool we can provide for our customers as the easiest and most convenient way to learn about all the exciting new products we offer and everything that is happening at Intense Lighting," says Kenny Eidsvold, President. "The time was right for a major update and we believe the new site provides an ideal combination of detailed content, beautiful, four-color imagery, real world applications as well as architectural elements that give our customers a truly satisfying, user-friendly experience. We were pleased to work with an award-winning, interactive design firm to help us with our site. Sophisticated 'back end' technology such as jQuery and HTML5 were instrumental in providing a variety of exciting enhancements and enabling features than anything we've ever seen before," he says.
Other highlights of the new web site include: FAQs; a Technical Library; a Literature and Resource section that links right back to the product section; a Continuing Education section featuring CEUs for lighting designers and architects; New Products; an Application Gallery rich with photos. There's also an In the News section featuring upcoming trade show dates, media coverage and more.
To experience the new site, visit http://www.intenselighting.com
# # #
About Intense Lighting
Intense Lighting, Inc. is a widely recognized as a solutions based manufacturer of award-winning, sustainable lighting products. Innovative and energy efficient, our luminaires offer a wide variety of specification grade lighting solutions for the commercial, hospitality, supermarket, retail and residential markets. Customers can select from several broad based product lines of LED downlights, tracklights and recessed multiples. In addition to interior lighting, Intense offers a complete product line of outdoor luminaries including bollards, landscape, steplights, wall cylinders, wall sconces, in-ground luminaries and our popular V-Rail, an LED illuminated rail system.
Established in 2001 and headquartered in Anaheim, CA, Intense Lighting has quickly become an industry leader by continuing to deliver quality products with the shortest lead time in the industry and providing outstanding customer service. Today, with a growing team of product engineers, Intense Lighting is on the cutting-edge of research and development in LED lighting solutions backed by the company's impressive 10-year product warranty.
Intense Lighting's affiliations include memberships in the Illuminating Engineering Society North America (IESNA), U.S. Green Building Council (USGBC), Designers Lighting Forum (DLF) and the Association of Retail Environments (ARE). In addition to partnerships with Energy Star and Lighting Facts (DOE), we are an approved educational provider for the American Institute of Architects (AIA) and Green Building Certification Institute (GBCI). For more information, visit http://www.intenselighting.com or call 800-961-5321.