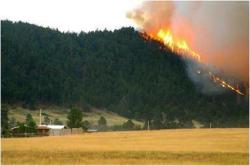 "Private firefighting companies provide an important best value resource for fighting wildfires", Rick Dice, President NWSA
Lyons,OR (PRWEB) May 15, 2013
As we go into what is expected to be a very busy fire season in many areas of the United States, the agencies that fight those fires are facing budget deficits resulting in a reduction of firefighters. Rep. Greg Walden (OR) understands the plight of fighting wildfires in his state, and believes that there is a need to address fuels work on our national forests as well as finding the optimal mix of fire resources to fight these fires. He believes that private industry has a place in wildfire suppression and can provide a cost effect resource for the tax payer as stated in his recent letter to the heads of BLM and USFS in Oregon.
Deborah Miley, Executive Director states "The National Wildfire Suppression Association (NWSA) represents over 250 private wildland fire services contractors who operate on an as-needed basis to provide federal/state and local agencies with a variety of resources for wildland fire and other emergency incidents. Resources include twenty-person firefighting crews, timber faller modules, engines, tenders, dozers and other specialized fire equipment as well as a full complement of fire/emergency incident camp services. They can provide up to 10,000 trained firefighters during wildfire season across the United States."
The National Wildfire Suppression Association member companies work under agreements/contracts that provide call when needed professional fire resources on short notice. These resources meet or exceed the training standards for wildland firefighters, and come totally outiftted at the expense of the contractors with no additional cost to the agencies.
"We truly provide a "best value" resource to the agencies and taxpayers across the United States during the height of fire season," said Rick Dice, NWSA President.