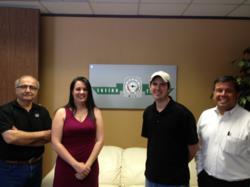 With the heavy use of paper, files are always getting misplaced, but with the help of Dokmee locating files electronically has never been so easy : Jay Potts - Squibb Taylor
(PRWEB) May 17, 2013
Office Gemini's flagship product, Dokmee Document Management Software, has been able to enter and prevail in every major vertical market: healthcare, manufacturing, and legal. Dokmee allows businesses to manage their electronic filing cabinets, making documents accessible immediately regardless of time and location. Office Gemini has created a strong reseller channel in the document management industry by offering lucrative and aggressive commissions to US and international resellers with strong promotions and rebates. This also includes assistance in all aspects of technical support, sales, marketing, and lead generation.
Squibb-Taylor Inc., was established in 1947, and has been serving the LP-Gas and Anhydrous Ammonia with quality lines and service for over fifty-seven years. Squibb-Taylor, Inc. is responsible for the national and international marketing of Taylor's Liquid Level Gauges and Squibb Taylor valves and controls. Squibb-Taylor currently has two locations which are located in Memphis, Tennessee and whose headquarters are located in Dallas, Texas.
Squibb-Taylor Inc. is an end user of Office Gemini's software products Dokmee and Diamond Vision. The software allows Squibb-Taylor Inc. to store all of their physical paperwork into files or documents within the system in a fast and efficient way. Dokmee and Diamond Vision allow Squibb-Taylor Inc. to locate files in a matter of seconds to make any updates or corrections as needed. Diamond Vision's scanning software makes it simple to scan and upload powerful production images or documents with no limitations. With the assistance of our reseller partner System Concepts Inc., also based in Dallas, they were the system architects who spearheaded the concept and implementation of Diamond Vision and Dokmee. Dokmee and Diamond Vision are compatible with any business that needs to store large amounts of paperwork, cutting down the use of paper, into an easy to use software program.