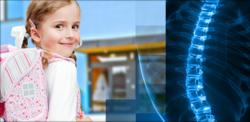 We feel strongly about ensuring that children, actively taking part in the education process by carrying their books to and from class every day, are not also harming their bodies.
Glendale, CA (PRWEB) May 21, 2013
Vital Imaging™ has teamed up with top researchers at the University of California, San Diego for a joint study which aims to compare the images of load bearing Gravitic™ MRI (Magnetic Resonance Imaging) with that of a supine Dynawell MRI scanner. Vital Imaging is renowned for its continued pursuit of improved healthcare by combining cutting edge technology with progressive research efforts.
Spinal MRI is an extremely valuable tool for evaluating pathological changes in the spine, vertebral bodies, vertebral discs, ligaments, and joints. With its ability to create high-resolution imagery, supine MRI continues to be the standard for analyzing soft tissue in the spine. However, recent studies on patients with degenerative lumbar spine disorders found supine MRI's may not detect all abnormalities which might be present. In lieu of this uncertainty, Vital Imaging is conducting supine loaded MRI spinal testing using a Dynawell device as well as a Gravitic MRI scanner. The report from this dual analysis will help to determine which method more accurately reveals patient pathology.
Vital Imaging and the University of California, San Diego are currently conducting another study using Gravitic MRI technology. This next study will determine the effect that carrying a backpack has on spinal length and intervertebral disc height in children. It has been hypothesized that even an average backpack load can decrease lumbar and intervertebral disc height, while also decreasing macro and micro vascular blood flow in upper extremities. Vital Imaging is actively participating in the effort to collect data which could establish a link between the use of back packs and back-related injuries in children.
Vital CEO Sam Solakyan had this to say, "The only thing that comes before a child's education is their well-being. We feel strongly about ensuring that children, actively taking part in the education process by carrying their books to and from class every day, are not also harming their bodies."
Vital Imaging has also partnered with UCLA by providing critical data regarding various degenerative conditions, kinematics of the thoracolumbar junction, and also translation and angular motion at various segments of the spine. Utilizing this data, UCLA has published multiple articles in various reputable medical journals.
About Vital Imaging, Inc.
Vital Imaging provides comprehensive diagnostic imaging services which benefit both physicians and patients. Vital's goal is to efficiently deliver accurate imaging studies to providers, subscribers, claimants, personal injury applicants, injured workers, and their attorneys for insured and non-insured parties. The company's commitment to staying at the forefront of technological advancement, as well as its administrative expertise, has garnered Vital Imaging a well-earned reputation for being the physician's choice for state-of-the-art medical diagnostics.
For more information about Vital Imaging please visit http://www.vitalimaging.com
About Sam Solakyan
Sam Solakyan is the CEO of Global Holdings, Inc. and Vital Imaging. Mr. Solakyan is a proven leader with a track record of delivering innovative business results and industry dominating growth. His goal-driven entrepreneurial spirit has transformed Global Holdings into a multi-unit conglomerate spanning the healthcare, entertainment, and technology sectors. Mr. Solakyan also serves on the board of other notable companies and charitable organizations.
For more information about Mr. Solakyan, please visit http://www.samsolakyan.com