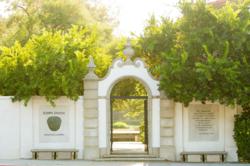 Claremont, Calif. (PRWEB) May 16, 2013
President Lori Bettison-Varga today announced a gift from Jess Ravich and his daughters – Zoe (Scripps '12), Rae, Ede and Ava – in honor of his wife, Tia Palermo. The Tia Palermo Scholarship will be awarded annually to help an incoming student with financial need.
Preference will be given to applicants from Livingston County in New York, Tia Palermo's hometown county, or from one of the surrounding counties of Wyoming, Orleans, Genesee, Erie, Niagara or Monroe.
"The new scholarship will help many students in the years ahead and stands as a testament to Jess's and his daughters' love and respect for Tia," Bettison-Varga said. "The Ravich family's gift is a tribute to Tia Palermo's life and to her belief in women's education."
Tia Palermo, one of six sisters, enrolled in college and supported herself while she attained a bachelor's degree in education.
"My parents both believed in the power of women's education and enrolled, us, their four daughters in an all-girls high school," Zoe Ravich said. "Further, my mother adored the Scripps College campus and what the college stood for as a women's institution."
The gift came in anticipation of a significant fundraising initiative and will produce immediate and long-term benefits for the College.