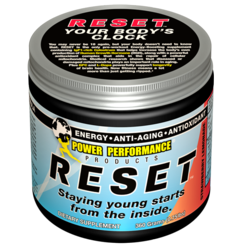 Never before has a fitness supplement done what RESET can do," said Mr. Fromin. "It turns up the dial on your energy so you can power through your workout at full throttle while at the same time, it turns back the clock on your body's aging process
Encino, California (PRWEB) May 22, 2013
Fitness pre-workout supplement manufacturer Power Performance Products today announced the addition of its newest product: RESET.
RESET, a powdered Pre Workout supplement created for body builders, is the only pre-workout energy-boosting product of its kind, containing IgF1-rich Colostrum that helps increase the body's own production of Human Growth Hormone(HGH). In addition, the formula includes a powerful antioxidant complex that aids in the repair of cellular mitochondria. Medical research shows that diseased or damaged mitochondria plays an important role in aging. Plus GPC and L-Dopa powerfully support longevity of brain health.
According to company founder Todd Fromin, the ingredients in RESET were formulated to trigger the body's own production of HGH, helping user's look and feel younger, along with aiding in weight loss and improving muscle tone. RESET also features a powerful suite of antioxidants that protect against cellular destruction from the inside caused by factors such as pollutants, oxidative stress, even over-exercise.
"Never before has a fitness supplement done what RESET can do," said Mr. Fromin. "It turns up the dial on your energy so you can power through your workout at full throttle while at the same time, it turns back the clock on your body's aging process. RESET helps you stay young starting from the inside out."
While the pre-workout supplement category already includes a number energy-boosting products, including Power Performance Product's own Body Storm and Body Effects powdered drink supplements, until now, none anywhere has featured age-reversing properties as its key benefit.
"We see this as the perfect product for men and women who want to maintain the strength of their bodies and youthfulness of their appearance while getting them energized for their workouts," added Mr. Fromin.
This product will be particularly valuable to body builders and fitness enthusiasts over 25, for whom longevity and anti-aging benefits continue to climb in importance.
Power Performance Products will be releasing RESET to selected brick-and-mortar and online retailers beginning in May. The choice of flavors will include Very Cherry Punch and Strawberry Lemonade. Other flavors may be announced soon. More information about RESET can be found on the company website: http://www.PowerPerformanceProducts.com.
About Power Performance Products
Founded by fitness enthusiast Todd Fromin in 2008, Power Performance Products produces a line of pre-workout powder drink supplements designed around the work-out needs of bodybuilders and fitness enthusiasts. Their product lineup includes Body Storm, combining ingredients for energy, strength and greater muscle mass; Body Effects, for more effective weight loss while boosting workout and mental energy; and its newest offering, Reset, bringing anti-aging and antioxidant benefits to the energy supplement category. Its products are sold online and in selected retail stores. For more information about Power Performance Products, visit http://www.PowerPerformanceProducts.com or call (888) 556-9344.