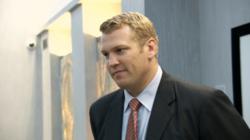 How much of you are you willing to lose for a game?
Jamestown, NY (PRWEB) May 16, 2013
Beginning on Friday, May 31st, 2013 with the NYSATA golf tournament at the historic Chautauqua Golf Club to benefit the Ronald McDonald House, the annual NYSATA Conference will run through Sunday, June 2nd at Jamestown Community College offering a variety of educational and networking opportunities for certified athletic trainers (ATs) and the local community alike. "On behalf of the JCC administration, we are delighted that the NYSATA membership has chosen Jamestown - and JCC in particular - for their annual conference," states Dr. Eileen Goodling, Vice President and Dean of Student Development at JCC. "We are hopeful that they will have an excellent experience and we look forward to partnering with them to assure their time in Jamestown is very positive."
As part of the conference offerings, there will be a public screening of the eye-opening, brain-injury-in-sport-based documentary, Head Games, immediately followed by a panel discussion on Friday, May 31st, 2013 at 8:00 p.m. in JCC's Scharmann Theatre. The movie will be introduced by the author of the book that inspired the film, Christopher Nowinski, a former athlete diagnosed with post-concussion syndrome, and Co-Founder and President of the Sports Legacy Institute (SLI) and Co-Director of the Center for the Study of Traumatic Encephalopathy at Boston University's School of Medicine. This will be followed by a panel discussion on concussion in sport lead by Mr. Nowinski and including four others: Michael Mitchell, MD, JCC team physician, Jarett Rhoads, MSEd, ATC, CSCS from Eastridge High School (Rochester), Lauren Saglimben, a JCC student-athlete, and her father, Mark Saglimben, Vice President, Community Bank. This session is complementary and open to the public as a service to medical professionals, school officials, and the local community, including families with physically active children, thanks to sponsorship from NYSATA and the JCC college program committee. Aimee Brunelle, MS, ATC, EMT, NYSATA President-Elect and Conference Chair states, "We are very fortunate to have Christopher Nowinski at JCC to introduce the film Head Games, as well as contribute as a panelist. As an expert in the sports concussion crisis, he has changed the public's view on sports concussion and made sports safer for all."
Presentations on June 1st-2nd for those registered will cover a breadth of topics, from sudden cardiac emergencies and advanced airway and concussion management, to hand rehabilitation, legal aspects and even historical aspects of AT. Speakers include Ray Ciancaglini of The Second Impact – another former athlete and concussion activist; Kent Scriber, PhD, ATC from Ithaca College; Karl Kozlowski, PhD, ATC and Andy Smith, MS, ATC, both from Canisius College; and Jill Yonkers, Esq. of Hodgson Russ LLP. For the workshop component, instructors include Ellen Lehning, PhD and Kelly Whitver, RN, both from JCC, Amy Livengood, OTR/L, CEAS II from Chautauqua Physical Therapy, and an additional session on Sunday, June 2nd by Trevor Correia, EMT-P from AlStar EMS. Certified athletic trainers in attendance for the entire weekend can earn up to 12.25 continuing education units (CEUs).
This is also the inaugural year for the AT Student program at the NYSATA Conference, with sessions by Mr. Correia and Jenna Tacinelli Hach, MS, ATC, CCT, CKTP from Dominican College.
Registration is available through the start of the conference, though pre-registration by Friday, May 17th, 2013 provides a discount, as well as other potential benefits. Those who are unable to attend can still contribute as golf tournament sponsors and anyone is eligible to join the golf tournament in the spirit of charity and camaraderie.
NYSATA, founded in 1976 and incorporated in 1989, stands to advance, encourage and improve the profession of athletic training by developing the common interests of its membership for the purpose of enhancing the quality of healthcare for the physically active in New York State. Comprised of over 1,200 certified and practicing athletic trainers, NYSATA is the state-wide affiliate of the regional Eastern Athletic Trainers' Association (EATA) and District Two of the National Athletic Trainers' Association (NATA).