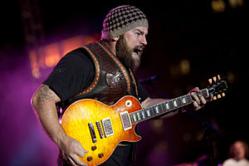 New York, NY (PRWEB) May 15, 2013
The Zac Brown Band is one of the rising American bands in the country and folk music genre. This band hails from Atlanta in Georgia. The band members are: Zac Brown (who is the lead vocals and guitarist), Jimmy De Martini (working with fiddle and vocals as well), John Driskell Hopkins (the bass guitarist and in vocals), Coy Bowles (guitarist and keyboardist), Chris Fryar (drummer), Clay Cook (multi-instrumentalist) and Daniel de los Reyes (percussionist). The band was formed in 2002, but they gained success in 2008. The band has been on tour since 2009 and 2010, they participated in the Bonnaroo Music Festival. Currently, the band has a total of five studio albums. They have attained the number one spot for nine singles on the billboard music chart. As of now, the band has sold more than 2.5 million copies. They have a certified platinum album as well as two Grammy Awards.
Small Beginnings
The band started performing in small venues. For instance, they performed at the Gibson Theatre with 6,000 plus seating capacity and then moved to performing at the Verizon Wireless Amphitheatre with more than 15,000 seating capacity. Their debut performance was at the Hollywood Bowl in 2011. This year, the band will be performing again in the forthcoming Hollywood Bowl where they have had immeasurable success. The Hollywood Bowl is set for the 26th of October in 2013. This venue is mainly used for musical performances and has a seating capacity of more than 18,000. It is located in Los Angeles, California.
The Zac Brown Band has a series of concert tours this spring season as well several shows lined up for the summer. This May, the band will perform at the Bayou Country Superfest that will take place at the LSU football stadium in Baton Rouge, Louisiana on the 26th of May, 2013. The band also has a series of concerts and will be participating in music festivals in major cities. The band will also have stops in the United Kingdom where they will be part of the Glastonbury Festival in Glastonbury, UK. The band will be performing in the UK for three days starting from June 29 to July 1. They will also perform in the RBC Royal Bank Bluesfest in Ottawa, Ontario, Canada on the 5th of July. As of this writing, the last concert performance of the band will be at the Sleep Train Amphitheatre in Chula Vista, California on 27th of October, 2013.
Book your tickets for the Zac Brown Band Hollywood Bowl Los Angeles performance today!